Apology Letter for Bounced Cheque
Technology can have its own flaws once in a while. We are living in a digital era but even then, computers and gadgets can put us into trouble. Paying customers and vendors by cheque is very common these days. The days of cash payments have gone now as safer modes of payments have been introduced and used commonly.
Paying by cheque is easy but for that, your account needs to maintain sufficient funds. If you pay someone by a cheque and it gets bounced, it can cause you a lot of embarrassment and hassle for the vendor. Apologizing in such a situation can be a good way to soothe the situation. Politely explain your situation and apologize for the delay. Try to compensate for any loss due to the lag and also try to pay as soon as possible.
Mention any steps you will take in the future to avoid such happenings again. End the letter on a positive note to keep up the relations well.
Apology Letter for Bounced Cheque
[Your Name]
[Address]
[Date]
Dear [Your Name],
Our business relationship has been quite old now and is strengthening every day. You have been one the most trusted vendors I know and you are and will be the first choice forever.
I purchased [XXX] from you last week and the order was received in time. I am highly grateful to you for the excellent and timely delivery. As you know, timely delivery and stock management are very valuable for my business.
I have always tried to pay you in time. If I get the best services from you, even you in return deserve timely payment from our side. However, after contacting the bank yesterday, I found out that your payment has not been made yet. I had attached a cheque with your invoice, which unfortunately has been bounced. I am extremely embarrassed to know this. My intentions were never to create a lag in payment or to deceive you. It has been my own negligence due to which this has happened.
I was sure about sufficient funds in the account until yesterday, I found out that a payment has not been received in my account yet due to which my funds were insufficient to pay you. I have attached a new cheque in this letter.
Please accept my sincere apologies for the delay and the cheque. I will make sure this does not happen in the future as I plan to review my bank account regularly.
Sincerely,
[Your Name]
Download Details: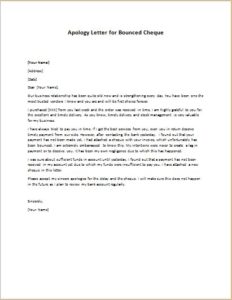 Apology Letter for Bounced Cheque
Size: 26 KB Word .doc File 2003 & later
Download
Size: 121 KB PDF File
Download
[personal use only: Not for Resale & Distribution]