Vacation Reservation Cancellation Letter
From the boredom routine, all families plan vacations for spending quality time with each other. Winter holidays are utilized mostly. And sometimes summer holidays are also benefited. In the normal routine of life, parents, as well as children are too busy that they hardly get time to spend with each other. So they make such plans to visit far off places where they would be totally free from their jobs, schools, colleges etc. Plans are usually made beforehand which include hotel reservations, ticket reservations etc. sometimes such situations occur that one needs to cancel his trip. Such circumstances include sudden death of a family member, issues arising regarding parent's jobs, some serious illness of children or parents or any natural disaster. It seems very upset in the start for parents and especially children. But uncertainties are always a part of life. In the long run, it has some benefit for a person regarding family or work which one cannot understand at the time.
Vacation Reservation Cancellation Letter
John Parker
Skyways Industries
Block 22C St. Fleet Avenue, San Francisco
30th November 2016
Mr. Paul Smith
Operations Manager
Crescent and Star Hotel
26 St, Blue Moon Enclave, New York
Dear [Recipients Name],
I regret to inform you that I need to cancel my vacation reservation on 10th December 2017. I have an urgent business trip to foreign due to which I would be unable to spend my vacations over there. I strongly apologize for any inconvenience caused due to cancellation. Please let me know if you have any reservation cancellation form. I will surely follow all the terms and conditions. If your hotel has any charges of cancellation, I will pay them. Please guide me with all the correct terms and procedures. Also, I would request you to refund my advanced reservation charges which I have submitted 10 days ago. I will be visiting your hotel in future under favorable circumstances as it being the best in the town. Please acknowledge my letter and confirm my request.
Thank you for your kindness and cooperation
Sincerely,
John Parker.
General Manager, Skyways Industries
Download Details: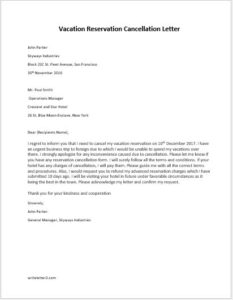 Vacation Reservation Cancellation Letter
Size: 24 KB Word .doc File 2003 & later
Download
Size: 323 KB PDF File
Download
[personal use only: Not for Resale & Distribution]