Thank You Letter to Boss for Laptop
A thank you letter for laptop is written by an employee to pay his gratitude to the company or his supervisors, who granted him a laptop for work purposes. The letter must express the appreciation and acknowledgment of providing employees the opportunity that may benefit him. Moreover, the letter must identify the reason for and benefits of issuing a laptop.
Expressing your credit to a person via a formal letter can be helpful in showing your professionalism in any field of work. This way you can not only maintain a good relationship with your peers, but it may also help you in working on your proficient skills.
Letter 1:
Respected Boss/Supervisor,
I am writing this letter to express my firm gratitude for the amazing opportunity you have provided me with, by issuing me a personal laptop for my job. This way, I can pay keen attention to my work without any interference and complete my work without any delay.
Throughout these months, I have tried best to prove myself as an honest and hard-working employee to this company. And I pay huge regard to my supervisors who always believed in my strengths. Having a personal laptop would not only improve my quality of work but it will also deliver my due project on time. This way I can bring my projects home and organize the workload accordingly.
I assure you that providing me with this opportunity will not be wasted and I will prove myself to be an asset to your company. Thank you again for supporting me in this regard. I am truly aware of the greater responsibility that the company has set upon my shoulders after this grant. I will make sure not to fail your expectations at any cost.
Thank you.
Yours Sincerely,
[Your Name]
[Designation]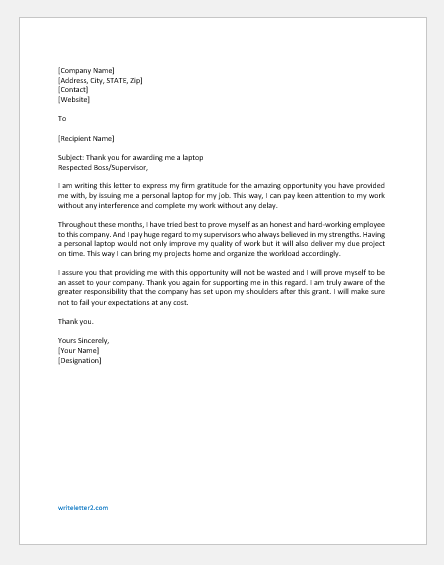 Size: 21 KB Word .doc File 2003 & later
Download
---
Letter 2:
Respected Supervisor,
This letter is written in response to my request of asking a personal laptop on Date: [Letter date]. I am here to express my sincere gratitude for accepting my request and issuing me a laptop for work purposes.
I expressed my reasons for a personal laptop in the letter in which I told the supervisors that how will it benefit my work capabilities. I was unable to complete my work on the due date and could not take the project at home, as the files and tools were only installed on the office's personal computer. This will help me in organizing my workload and providing the best of my skills.
However, I am well aware of the laptop issuing policy that the company beholds. It states that any issued property must be returned to the company if the employee opts for resignation or the authorities generate a termination against him. As per the work expectations that the company has set against me, I will make sure to bring the quality of my work up to the mark and not fail your expectations.
Thank you again for helping me out in this matter.
Yours Sincerely,
[Your Name]
[Designation]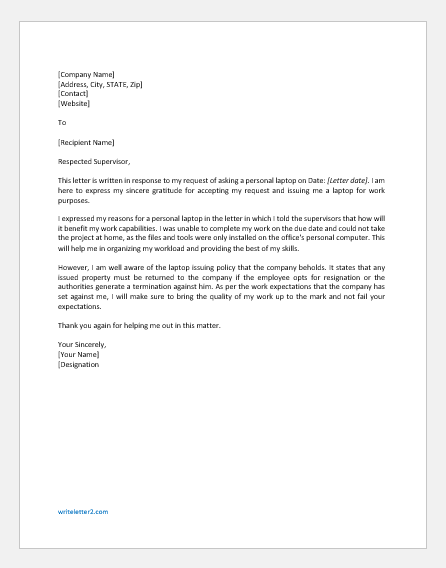 Size: 20 KB Word .doc File 2003 & later
Download