Invitation Letter to a Demonstration
The invitation letter to a demonstration is written by a company when it launches its new products and wants the people to have a review of them. The specifications and the features of the products of the company are demonstrated so that the people can know about them. The main purpose of conducting the demonstration is to promote the products of the company. The presence of people is very important for the company because of which the invitation letter to a demonstration should be written in such a way that it can enforce the reader to attend the event.
The event should be considered a pleasant activity by writing the invitation letter in a positive tone. The reader should be known that his presence in the event is required. The most important part of any invitation letter is the details of the event where the reader is being invited. The details of the event form the basis of the letter since the letter is considered incomplete without it. The main details of the event which are required to be included in the letter are the date, time and location of the event.
The main part of the invitation letter to a demonstration is to write the purpose of conducting it. Important information which should be included in the letter is the introduction to the company. In most of the cases, the objective of carrying out the demonstration of the products and services is to promote them. The important thing for the success of the event is the presence of people. There can be some persuasive statements which can grab the attention of the reader and can make them attend the demonstration.
The letter should be written in positive tone although it is a professional and formal letter. It should include all the details which are needed by the reader. The invitation letter should not be too long. The unnecessary details should not be included in the letter. The language that you use in the letter should be simple and easily to understand. Write what you expect from the reader in clear words.
Invitation Letter to a Demonstration
Peter Morrison
[Address]
[Letter Date]
[Recipients Name]
[Address]
[Subject: Subject of Letter] -Optional-
Dear [Recipient's Name],
We are very pleased to invite you to the first demonstration of newly launched car of the company. Our company is organizing this demonstration because it is a special featured car and has all those functions which are present in luxurious cars. It has exclusive features which you could never find in any other model before. The car has been designed for family and it is available at a very affordable price. We have lots of financial plans for our customers who want to purchase this car. We will be very happy to see you at the demonstration. It will be great pleasures for us to make you test drive the car.
Sincerely,
Peter Morrison
[Senders Title] -Optional-
Download Details: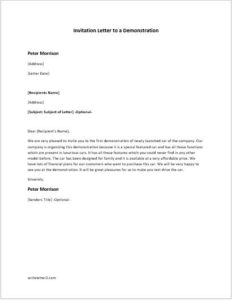 Invitation Letter to a Demonstration

Size: 24 KB Word .doc File 2003 & later
Download
Size: 308 KB PDF File
Download
[personal use only: Not for Resale & Distribution]