Complaint Letter for Cell Phone Use at Work Place
Many a time, it happens that a person uses a cell phone during office work and do not concentrate on the work. When an employee works for a company his responsibility is to work properly on time and do not waste time using a cell phone or doing other activities. Several Breaks are given for relax and refreshment, one can manage such extra activities in these times. Employees have a great hand in the success of the company, but if they do not work properly and waste their time, it leads to big losses of the company. Those people who use cell phones in the office are lagging in their work and their work always remains incomplete. They do not pay heed to anyone who tells them to work and is always in their own world. These employees cause loss to the company and should be terminated from the company.
Complaint Letter for Cell Phone Use at Work Place
Argon French
Block 7 C, Fresh Avenue, Los Angles.
March 23rd, 2017
Mr. Elton Bob.
CEO.
The Elton Enterprises.
Block 3 A, Kings Avenue, Los Angles.
Dear Mr. Elton Bob.
This letter is regarding a complaint about an employee of our company. The complaint against [EMPLOYEE NAME] is that he constantly uses a cell phone during office work and do not pay attention to his work. It has been observed that after multiple verbal warnings we have found that he is still using his mobile phone at work timings which are not at all acceptable. The manager of the company and many other employees have sent him complaints but he does not pay any take serious note of it. We are hereby forced to send this complaint letter because we still find no change in his behavior despite all reminders and notices. I suggest you to personally warn him and tell him about the restriction of the cell phone use during office work and tell him not to continue this attitude in the future. I hope he will improve his behavior in the future.
Thank you for kind consideration.
Sincerely,
Argon French.
Download Details: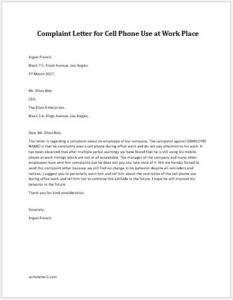 Complaint Letter for Cell Phone Use at Work Place

Size: 41 KB Word .doc File 2003 & later
Download
Mobile Version: Polaris Office & Google Docs
Size: 16 KB File
Download
[personal use only: Not for Resale & Distribution]