Complaint Acknowledgement Letter
When clients have complaints, they write complaint letters. It is then the responsibility of the service providers to respond back to the complaints. Even if the complaint cannot be resolved quickly, a complaint acknowledgment letter should be written to the client in order to inform him that his complaint has been received and will be dealt carefully.
Complaint acknowledgment letter is a necessary tool for businesses to flourish public reputation especially when it is about services and close client-customer relationship.
Complaint Acknowledgement Letter
Adney Adolf
[Address]
[Letter Date]
[Recipients Name]
[Address]
[Subject: Subject of Letter] -Optional-
Dear [Recipient's Name],
I am writing this letter to you in order to inform you that your complaint has been received. We have carefully reviewed your complaint and apologize you for the inconvenience. Your complaint will be responded back in detail very soon. Please accept our humble gratitude for being our valuable and concerned client/customer and for sending us your feedback.
We assure you that you'll not have to file the same complaint again in future and that your complaint will be resolved soon. Thank you!
Sincerely,
Adney Adolf
[Senders Title] -Optional-
Download Details: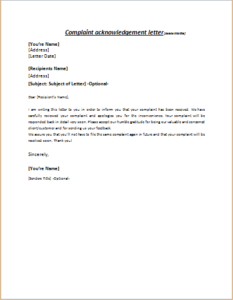 Complaint Acknowledgement Letter
Size: 26 KB Word .doc File 2003 & later
Download
Size: 288 KB PDF File
Download
[personal use only: Not for Resale & Distribution]