Letter to Congratulate Someone for being Accepted as a Priest
Everybody strives to choose the best career for himself. Some can achieve their wishes but sometimes nature decides something different.
No matter in which profession you are serving but devotion should be the prime thing to flourish in the line of work. Especially, if we talk about a Priest, it is dedicated and devoted work to perform. Everybody cannot be qualified for Priest because of its commitment and fidelity to serve humanity while sacrificing many things to achieve this post.
One needs to have a very brave and pious heart for this performance. For those who achieve this, we need to congratulate them and appreciate them to keep their morale high. Because of them, the message of God is spreading to the nations and people reform themselves. It is a matter of great honor if someone is being accepted as a Priest. We should congratulate our loved ones who are accepted as a priest to present our little regards for them.
1-
I want to congratulate you on being accepted as a priest in [church name]. when you were serving as a deacon, we visited the parish, and your kind nature and inspiring words moved us greatly. Everyone in the community admired you and we are very happy to know that you would be serving as a Priest in our area.
As you are well aware that due to the pandemic, our community is going through a difficult time. Many people have lost their jobs and are going through a rough patch. A good leader like you can guide the community in hard times like these. I want to assure you that you have my full support and I would like to contribute with my money and time for any worthy cause you take up.
Looking forward to a period of learning and helping under your able guidance.
2-
Please accept our heartiest congratulations on your ordination to Priesthood. It is a very special occasion as it is an acknowledgment of your devotion to spreading the word of God. This is important work in this day and age when religion and moral values are constantly being put on the backburner for material gains and small-term benefits by the common man.
Only the word of God can bring people together and out of the depths of ignorance and despair. Your role is even more important as frequent reminders in the form of weekly sermons are really effective against the constant onslaught of materialism and brazenness promoted by the media.
I am sending you a small gift as a token of my appreciation. I would be grateful if you accept it. I would also like to extend my support for the causes you choose to support. I am at your service with my time and money.
Wishing you the best of luck in the future.
3-
St. Paul's Church
Abbey Churchill
43 St. Pearl Avenue, California.
[Date]
Mr. Peter Michael
Priest
Health Park Church
25 St, Silver Crescent Avenue, California.
Dear [Recipients Name],
Hope you are having the best life and living happily. I heard the news about you for being accepted as a Priest. It is a matter of great honor for me and I am so proud of you that I cannot explain in words.
It was because of your optimistic behavior and positive approach towards life to serve humanity. All the coursemates are also very happy after hearing this news and presenting their best wishes for your future.
Although it is a very dedicated and difficult task to perform this duty I know with your devotion and keen interest to do something for humanity you would easily go through this tough duty. I congratulate you again for being accepted as a priest. I wish you the best of luck for your future and keep remembering me in your prayers.
May you prosper in life and serve humanity as per your plan.
Sincerely,
Abbey Churchill
Pastor, St. Paul's Church
Download Details: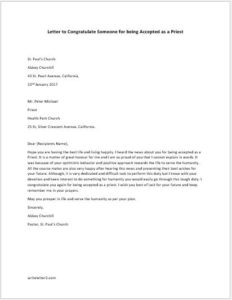 Size: 32 KB