Apology Letter for Hurt Feelings
We can hurt people with our rude remarks or by speaking to them in a rude way. When we are responsible for any such situation, we should apologize as soon as we recognize our mistake.
Briefly, explain what happened. Explain any reasons for your behavior. Being honest in your reasons can help the other person better understand what you were going through? Politely apologize and try to understand the feelings of the person being hurt by knowing how they feel now. Promise them to work on your behavior and not to repeat this behavior again in future.
Apology Letter for Hurt Feelings
Dear [Recipient Name],
You know how much you mean to me and you know how much I am concerned about you all the time. I know I am working a lot these days but you should also know that you are always on my mind. Sometimes, we get occupied with work in such a way that we do not get time to contact our loved ones. But that does not mean that you are being ignored.
The other day I was having back to back meetings when you started calling. I texted you to inform you that I am being busy and I will get back to you as soon as I get time. But you were insisting on talking which was not possible in that situation. The pressure of work and your non-stop calls just got on my nerves and I shouted at you.
Later when I calmed down, I realized how wrong I was to talk to you in that way. No one deserves the behavior I had. I am very sorry. I do accept the fact that you were calling out of the concern and care you have for me in your heart. And I keep a very high regard for all your feelings.
Please forgive me and understand my situation. I assure you not to repeat such behavior in the future again. I promise to work on my attitude and make it better for our future.
Sincerely,
[Your Name]
Download Details: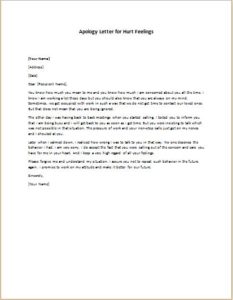 Apology Letter for Hurt Feelings
Size: 38 KB Word .doc File 2003 & later
Download
Size: 122 KB PDF File
Download
[personal use only: Not for Resale & Distribution]