Special Meeting Announcement Letter
The meetings between the staff of any company or organization are very important and very common. Whenever any person of high authority in any business wants to communicate with the people working under him, he can call them on for the meeting. The meeting also allows the staff members to share their views with each other.  The main purpose of writing this letter is to let the readers know about the emergency meeting called. The letter does not include any extra detail except the significant items of the meeting. Since the letter is formal, it should be to the point. The reader should be told through the letter that what to expect in the meeting.
The advantage of telling the reader about the subject of the meeting makes the reader mentally prepared for the meeting and he can also write several important points which he may want to discuss in the meeting. You also state that this letter is being written to call the reader for the emergency meeting.
The date, purpose, time and the location where the meeting will be held should also be explained in detail. If you want to get the attention of the reader in first glance, add a catchy subject in the letter. It should be mentioned in the letter that it is obligatory for the reader to attend the meeting so that the message of the letter can be taken for-granted and they take it as their responsibility to attend the meeting.
LETTER
Dear [Recipient's Name],
It is to announce that all the employees should be in conference room Number 1 for the meeting. The meeting will be conducted at 5 p.m. Some important decision will be taken about the employee benefits and other facilities. Please fill the employee information sheet attached with the letter and send it to the meeting.
[Your Name]
[Senders Title] -Optional-
Download Details: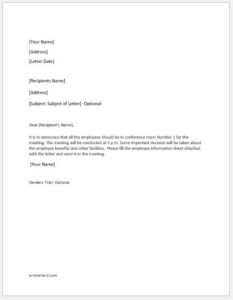 Letter Announcing Office Closing due to Financial Problem

Size: 29 KB Word .doc File 2003 & later
Download
Mobile Version: Polaris Office & Google Docs
Size: 17 KB File
Download
[personal use only: Not for Resale & Distribution]