Attendance Warning Notice to Students
1-
Kindly consider this notice as a warning against your poor attendance record. We have looked through your previous record of three months and it is clearly revealing that you had remained absent for most of the days. You know poor attendance is discouraged highly by the college's principal. It is also lowering down your performance in studies as I remember you were a brilliant student in the past.
The college's first and foremost policy asks for every student to designate their daily guidelines at the start of its everyday pursuit. From now you will be under strict surveillance and monitoring for about thirty days and I will look at it daily. Disobedience to go along with guidelines will lead the college administration to suspend you giving any prior notice. Visit my office tomorrow at [X] hours and bring your parents too. I want to see improvement in your attendance record so take this notice seriously.
2-
This notice is meant to serve as a written warning against your continuous unsanctioned attendance issues. Your class teacher has requested several times to reprimand you based on a poor attendance record. This absenteeism is putting adverse effects on your studies and letting your performance down. If you do not correct this behavior, then further punitive action might be taken in opposition to you as stipulated in the college's policies and rules. We appreciate our students' attendance as it puts a great impact on their studies and credibility.
It can be hoped now that you will consider this warning seriously to avoid additional adjudication actions. We rigorously catechize you to take the matter earnestly and it demands top priority.
3-
It has been reported that your attendance record for the previous two months indicates your irregular and poor attendance. In this period, you frequently were absent from college without seeking any permission from your class teacher or to inform before time. The college administration would like to recall you that leaves without earlier sanction or rational cause are regarded as misconduct. Hence it can be a solid reason to terminate you permanently from the college.
Kindly take this notice as an official deterrent that the college may go ahead with inevitable disciplinal acts to demoralize this intolerable behavior. Any failure in meeting attendance criteria for the next month will lead to your suspension from the college as its sole circumspection. You will be in strict monitoring from now. I have also attached the copy of this notice in your monthly record in my office and I personally will go through it daily.
4-
I am writing this notice to let you know that during the last two months you have made a very poor record of attendance. For this reason, you have been put on a provisionary period. The record for these months reveals that you did not come to school for thirteen days and you also missed your monthly test session.
As per the school's disciplinary policy and code of conduct, more leaves of non-exempt dilatory to classes might result in restraint, postponement, and deferral. Moreover, absenteeism according to the school's guidelines is unsanctioned absence and it will result in dismissal and suspension.
5-
ABC School System is making multiple efforts to provide the best to its students in all fields. Our priority is to make sure regularity in attendance of all students and any student found violating will face its consequences. This notice is a written warning to you over your attendance below 40%. For this reason, you will not be allowed to appear for final term exams or to take part in any activity. Kindly visit me tomorrow in the management office and bring your father also with you otherwise you will not be allowed to enter school.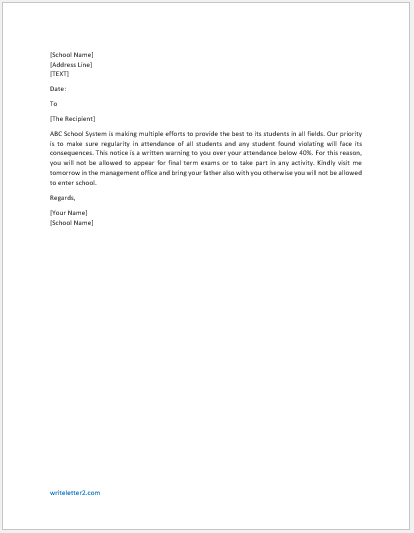 Size: 19 KB Word .doc File 2003 & later
Download