Apology Letter for Coming Late to a Meeting
Punctuality is a trait which most of the successful people follow and it shows how much we respect the time of other people. But getting late can be possible due to uncertain circumstances in our life. Apologizing for being late is a good measure to show someone that we respect them and their time as well.
Briefly, explain the reasons for being late. Be honest in explaining your reasons. Mention that you are a very punctual person and being late is not a part of your personality. Apologize politely and try to make up for being late by rescheduling another meeting or by discussing the meeting points over a phone call or email.
Make sure not to repeat this behavior again in future and promise to manage your time more efficiently and effectively.
Apology Letter for Coming Late to a Meeting
Dear [Recipient Name],
I was aware of our meeting yesterday and I had marked my timetable and had set a reminder as well. You know how ethical I am about my work. I am very conscious about someone else time as I know time is money. I have always valued our relationship in terms of business and personal as well.
Yesterday when I was about to leave for the meeting, one of my employees came over to me and she wanted to discuss something very serious. I had to choose one and so I choose to listen to her. My employees mean a lot to me as they are the ones who are making my business a success.
The moment I resolved my employee's issue, I rushed to the meeting. On arriving, it came to my notice that half of the meeting has elapsed. I had to discuss a few very important issues with you. I had also prepared a report for our meeting which, unfortunately, I was not able to present. I have emailed you the report along with the discussion points. Please review and let me know so that I can reschedule a meeting with you whenever you are free.
Please accept my sincere apology for being late. You may know I am a very punctual person and I can assure you that this will not happen in the future again. I have also reviewed the minutes of the meeting. I will be waiting to hear back from you soon.
Sincerely,
[Your Name]
Download Details: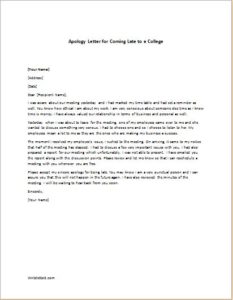 Apology Letter for Coming Late to a Meeting

Size: 41 KB Word .doc File 2003 & later
Download
Size: 122 KB PDF File
Download
[personal use only: Not for Resale & Distribution]