Letter of Request for Tools and Equipment
Letter 1:
Subject: Letter of request for tools and equipment

Respected Sir,

My name is Anderson, working as Assistant Manager in your company for the last ten years and I am writing you this letter as a request on behalf of all current office staff. I want to bring into your kind notice that we had to shift our company office to a new place as per your instructions. During this shifting process, we have lost a lot of our office equipment and some of the office equipment have also been impaired during this process.
Moreover, we need to buy a dozen new computers because of the hiring of new staff. We are facing difficulty while doing official work because the newly appointed staff has been adjusted with seniors for the sharing of various equipment including computers. Additionally, for training purposes of the newly appointed staff, a soft board along with multimedia is also needed. All these things are required within a minimum possible time to ensure the smooth functioning of the office and to maintain a healthy working environment.
So, to eliminate the element of difficulty and to ensure a hassle-free working environment of the office, please give due consideration to my request and entertain it as early as possible. A complete list of all those office equipment and tools that are required right now is also been attached to this letter. If this equipment is not provided to us, it will become really hard to work on a daily basis. I hope you will understand the situation and accept my request. Thanking you in anticipation.
Yours truly,
[XYZ]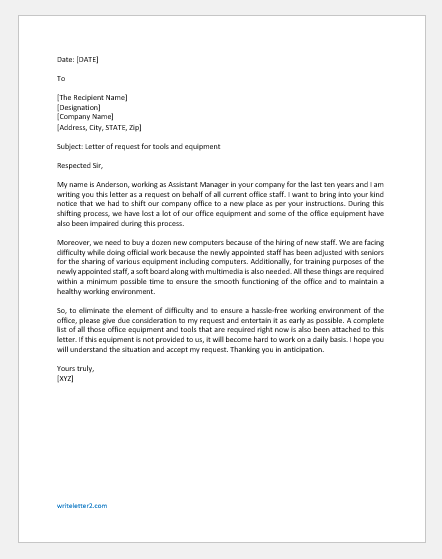 Size: 19 KB Word .doc File 2003 & later
Download
---
Letter 2:
Subject: Letter of request for tools and equipment
Respected Sir,
I am Jackson, manager of our newly opened branch at [location]. I am writing you this letter to forward a formal request for the provision of some of the tools and equipment that we need as early as possible. I am highly thankful to you for providing us all the required equipment that we need to start our operations after three days from today. However, we need a number of other tools and equipment including revolving chairs, a few computers, some additional stationery items, a photocopier machine, a printer, and a few units of the split air conditioner.
Although I know very well that our required equipment can be provided to us within a week but you know that our company has its own worth in the market and we want to put the best impression on our customers from the first day of opening.
I am attaching with this letter a list which is indicating the exact number of all the required tools and equipment. So, to facilitate us, please entertain my request as early as possible and provide us with all the required things before opening so as to ensure the smooth functioning of our newly opened company branch right from the first day. I am thanking you in anticipation for this act of kindness.
Yours truly,
[XYZ]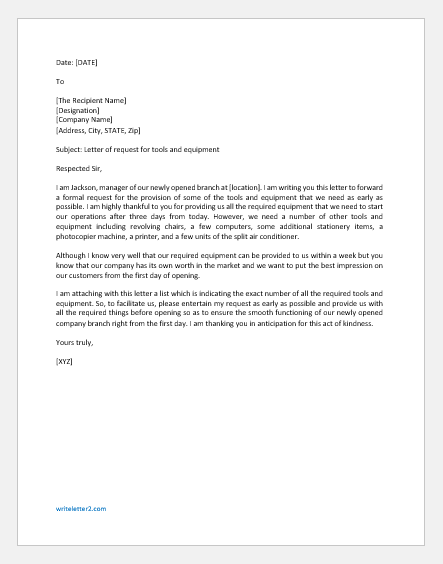 Size: 21 KB Word .doc File 2003 & later
Download