Resignation Letter from a Church Position
Every job has a positive as well as negative aspects. This depends on us whether to look positive side or negative. When we see the negative aspects are dominating on the positive part then we should quit that job for the peace of mind but all this depends on the availability of new vacancies and one's qualification or experience in particular job. There are many other reasons to resign from some particular post like shifting of city or country, applying for the higher post, shifting job for a better salary or for better environment and facilities. Therefore, resignation does not mean all the time that person is not satisfied from the duty he is performing. But resignation should be according to the terms and conditions set while applying for the post. Moreover, there should not be any negative remarks about the place where you served. However, if you think that your remarks may create some reforms in a befitting manner then these remarks may be included but keeping in view the choosing of words.
Resignation Letter from a Church Position
Abbott Adamson
Block 22B, Hill Top Avenue, New Hampshire.
18th January 2017
Mr. Hank Hilbert
Pastor.
River City Church
34 St. Red Cross Avenue, New Hampshire.
Dear [Recipients Name],
I regret to inform you about my resignation from the position of Patriarch. My resignation will be effective from 2nd February 2017. I have spent 5 years in River City Church. I am moving to another state with my family. Two of my sons found government job in New York. So, all the family is shifting together. I talked to my family to stay here without them for one more year. But they are not willing to leave me alone here due to my health factor. I will always remember this time. These all years were a great blessing of God. I have learned a lot in this time. I have cherished every moment during these years.  All members were very supportive throughout my work. I truly apologize for any inconvenience regarding my reservation.
I will be waiting for your kind cooperation.
Sincerely,
Patriarch, Abbott Adamson
Download Details: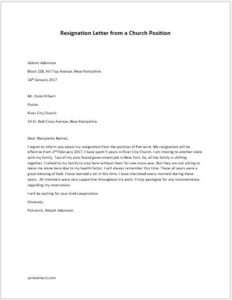 Resignation Letter from a Church Position

Size: 28 KB Word .doc File 2003 & later
Download
Size: – KB PDF File
Not Available
[personal use only: Not for Resale & Distribution]