Resignation Letter because of Health Reasons
When you want to leave your job because of your poor health, then you have to let your employer know about it through your resignation letter. Informing the organization about the health is not mandatory, however; giving the reason in the resignation letter is good. Writing the resignation letter with the reason of health is very easy as it is a very concrete base on which your resignation letter can be accepted. You have to choose that how much information you have to provide regarding your illness in the letter. The notice period should also be mentioned in the resigning which your illness allows. The appropriate way to write the resignation is to mention that you have taken a tough decision of leaving the job. While writing the letter, mention your personal details such as job position, designation, and other job-related details.
Resignation Letter because of Health Reasons
[Your Name]
[Address]
[Letter Date]
[Recipients Name]
[Address]
[Subject: Subject of Letter] -Optional-
Dear [Recipient's Name],
I am very sad to submit my resignation letter before you and it will be effective from 15th July 2017. I am currently not feeling well and I have been given advice by doctors to take rest in order to have a quick recovery from the illness. Since I am in a complex situation, I and my family have decided that it would be an appropriate time to take this decision. I am thankful to the company for providing me all the opportunities during my stay and also for encouraging me in every situation no matter how difficult it gets. I am highly grateful for the support of the company.
Sincerely,
[Your Name]
[Senders Title] -Optional-
Download Details: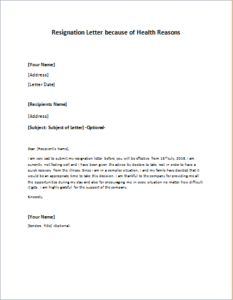 Resignation Letter because of Health Reasons
Size: 25 KB Word .doc File 2003 & later
Download
Size: 208 KB PDF File
Download
[personal use only: Not for Resale & Distribution]