Experience Reference Letter
Sample -1
09 January 20XX
Sherman Austen
Manchester, HJ78
Dear Mr. Austen, this is a matter of great pleasure for me to recommend Mr. Hughes as a candidate for the position of Managing Director at your organization. He had been working in my office on the aforesaid post for the last ten years. As a managing director, he was supposed to maintain records of all official proceedings as well as to ensure its secrecy. Throughout the time he spent with our organization, he performed all the tasks on time and demonstrated excellent skills which are enough to make him a valuable employee at your organization.
During his period, he executed all his abilities and did a tremendous job, and proved himself a unique gift for our organization. You can differentiate him from other employees on the basis of certain characteristics that he possesses such as excellent communication and verbal skills, a highly organized personality, the ability to work independently, and to perform numerous tasks with zeal to wind up all within the specified time period.
Moreover, as I remember once he was given an additional duty of trainer. Fulfilling our expectations, he accepted the challenge and completed this task in an efficient way. Despite his busy schedule, he offered his assistance to all office mates through thick and thin. Consequently, he built his affinity with several constituents of the organization including employees, clients, and higher management by means of his professional behavior.
Keeping in view his performance there would hardly be any exaggeration in stating that he is highly suitable for your organization by virtue of his excellent communication skills and trustworthy behavior. I wish him all the best in his future endeavors.
Regards,
Kelvin Klein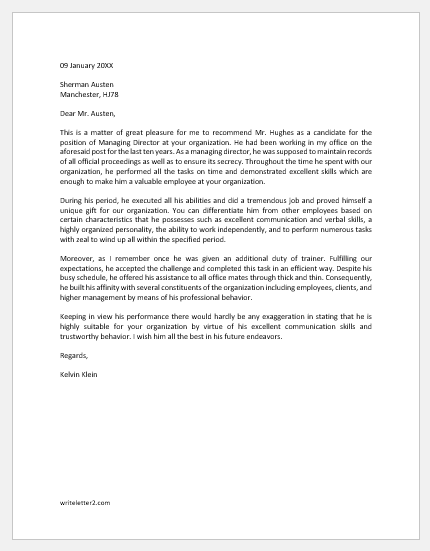 Size: 21 KB Word .doc File 2003 & later
Download
---
Sample -2
05 January 20XX
Neil Amsterdam
Brooklyn, ER456
Dear Mr. Amsterdam,
I am writing this letter to you on behalf of Ms. Katherine who has applied for a visiting lecturer in your university. She has given us her services for five years and during this period she remained vigilant and efficient in teaching students and performed her duties with extraordinary skills.
During this period, she did not take any uninformed leaves or was involved in any kind of misconduct. She has performed the tasks and targets way beyond our expectations and had been consistent in her performance. She also remained available for other responsibilities as well and worked extra hours for the university's sake whenever she was asked for. She performed each task energetically demanding more responsibilities and also remained available on weekends whenever we required her. With her hard work, she has made the students unique individuals.
Moreover, she also established the Students Teacher Counseling Centre in the university whose sole purpose was to create a friendly environment between students and the teachers. The thought behind it was to create such a platform for students where they could share their problems and job-related issues with teachers easily.
In light of the above-mentioned qualities, I assure you that she would be proved a helping hand for your university. The teachers like her are surely an asset for our society and found once in a blue moon. She has all those qualities that a hard-working and efficient teacher should have. I hope that you will appoint her and will give her a chance to serve the welfare of students. I wish her all the best for a bright future.
Regards,
James Holcomb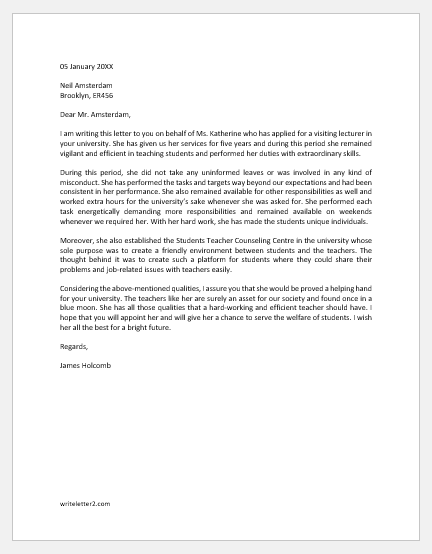 Size: 21 KB Word .doc File 2003 & later
Download