Letter Announcing Arrival of a New Company Nurse
When a new person joins the company, it is a must that he/she is welcomed by the existing staff. Joining a new company with an entirely different atmosphere is a kind of hard thing to manage but, it gets easier if fellow workers are cooperative and welcoming.
Moreover, the owner, along with a welcoming note, must make it known to his staff that a new person is arriving with some academic records and achievements and for the following designation. Below is a letter that is written in this respect.
Sample
It is a matter of delight to announce that Mrs. [Nurse's name] is going to join us coming [Day/Date etc.] as a new company nurse. From now she will be handling all the medical records and files of the employees also she will be dealing with the first aid items and some medicines.
Mrs. [Nurse's name] is a professional and well-experienced nurse with a [four-year diploma degree in nursing] and [health care]. She had been an in-charge nurse in the community hospital for the past three years and I am sure that she will do her job well in our company as well. I want all of my staff to give her a warm welcome when she arrives. I hope and wish good for you all and for our new staff member. Thank you very much.
2-
We are excited to announce the arrival of our new company nurse, Sister Linda Williams. On upcoming Monday, she will take charge and fill the position of our late company nurse Sister Julia who was killed in a road accident.
She will assist our medical officer in dealing with routine medical matters of the company. She will also be responsible for handling and maintaining the medical files of the employees. Henceforth, all the medical bills will be initiated and routed through our new company nurse.
Ms. Linda has been working as a staff nurse in various renowned hospitals in the country. Medical care is a department that demands qualified individuals with practical working experience. We are fortunate to find someone as a nurse with considerable years of experience in her relevant field. I hope you all will help me give her a warm welcome as soon as she arrives.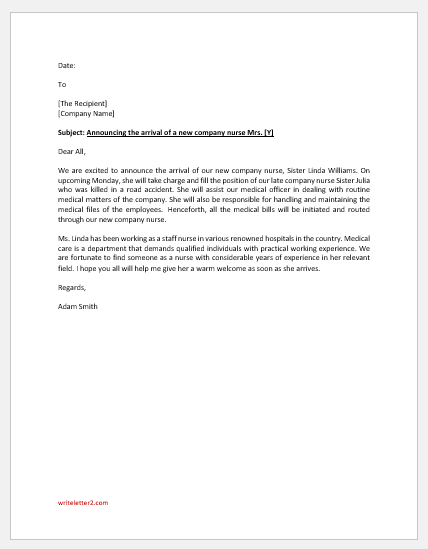 Download
---
3-
It is hereby announced that Ms. Parker has joined us as our new company nurse in the medical care department. She will report directly to our chief medical officer, Mr. Arnold, and assist him in overseeing all the medical-related functions.
We are happy to find Ms. Parker as our nurse who has more than 15 years of experience in the same capacity at various renowned hospitals. She is excellent at managing emergency cases efficiently. Her expertise is exactly what we need at Stars Marketing Company. She will be responsible for maintaining employees' medical files, providing good medical care to staff members, and helping them prepare their medical bills.
She is supposed to join the company on upcoming Monday. You all are requested to offer her a warm welcome upon her arrival. Please offer her your support so as to make her familiar with the company. We will be having a small welcome party this Monday to make her arrival a memorable event. Your presence on said occasion will highly be appreciated.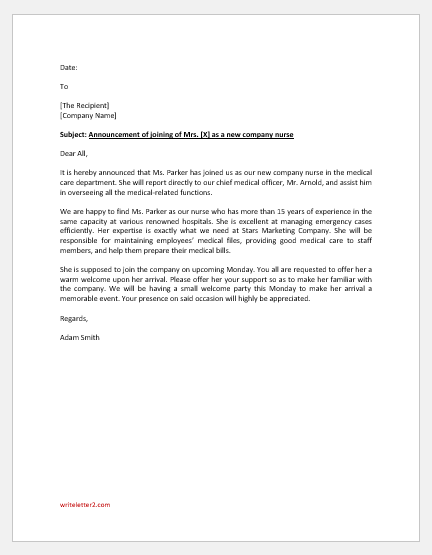 Download