Interior Design Proposal Letter to Client
An interior designer specializes in making indoor spaces beautiful and more functional. They make the best use of the available space and design it in such a way that makes it look spacious and attractive. Many companies hire interior designers to design their office space to suit their needs. Sometimes people hire designers for their personal residence as well.
Before you hire a designer, you need to have a budget in mind. Make sure your budget range matches the rates of the designer you approach. You can view profiles of potential interior designers and have a look at their portfolios and then pick the one that suits your needs the best.
As a designer, when a client approaches you, have all the initial discussion with him about what his exact vision is. Make sure you understand the requirements of the client and his vision. You should also visit the place the client wishes to renovate and get a proper understanding of the space structure and indoor light availability.
After analyzing all the details, you can write an interior design proposal letter to the client. This will be a professional letter with a formal tone in which you can discuss the idea you have for their interior design and your budget bracket too. The following points should be considered while writing an interior design proposal letter to a potential client
Do not exaggerate in your proposal. Do not make tall claims that you will entirely transform the space and will do so in a small budget. Be realistic and make promises that you can fulfil later. Not being able to deliver what you initially promised is extremely unprofessional and ruins the reputation of your brand.
Do not use very technical terminology that may not be understood well by the client. Always remember to treat the client like a layman and put your point across in an easy-to-understand language to avoid any difficulties or misunderstandings later.
Propose a budget that will be suitable for you as well as the client. The budget should be profitable for you as a service provider but also affordable to the client. If you are new to the interior design business, then you should keep your profit margin low to attract clients to you initially.
Remember to write the letter in a polite, convincing, and formal tone. You can also print out a picture of a vision you have in your head about how the space can be decorated, and you can also attach pictures of similar spaces you designed previously so that the client can have an idea.
Following is a sample of an interior design proposal letter to a client.
Sample Letter
To,
Mr. John Gray
Cornwall Street
From,
Mr. Walter Schwartz
Manager Schwartz Interior Designs
East London
Dated: 12th January 20XX
Subject: Interior design proposal letter for [X]
Dear Mr. Gray,
Good day. I'm writing to inform you that after our initial discussion held on 10th September 20XX regarding the interior design of your residence, I have prepared a proposal as per your requirement. We took into consideration the space available, availability of natural lighting, costs, and your budget before preparing this proposal.
We think that we can remove the old furniture you have in that space which is chunky and takes a lot of space and makes the space look small. Instead, we can replace it with lighter colored and smaller furniture. Moreover, we propose that a color scheme of blue and ivory be used for the walls to give them a more appealing and spacious look. The curtains are also very heavy and do not go with the overall look of the room so we have looked for some lighter options which will be more appropriate for the summer.  We propose a budget of $1500 for this vision of ours to be executed well.
We have attached a few pictures with this proposal letter for you to have a look at. These are the pictures of the work we have done previously on similar spaces. Feel free to contact us if you have any more suggestions regarding the design we proposed.
Regards,
Walter Schwartz
Signatures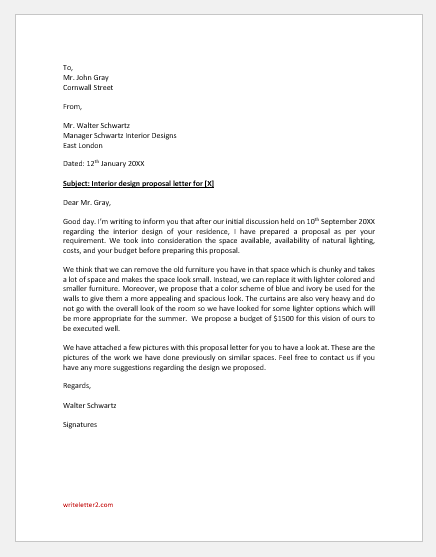 Size: 22 KB Word .doc File 2003 & later
Download