Poor Services Apology Letter
1.
My name is [name] [designation] from [telecom company name]. I am writing to apologize for the inconvenience you faced on [date]. As you know that due to the storm there were very strong gusts of wind and a very heavy downpour of rain which damaged our infrastructure resulting in no signals. The cell phone and internet services were completely shut down and we fully realize that this made a time of crisis more difficult for everyone.
Due to environmental changes and global warming, we cannot ignore the possibility of natural disasters. We can only ensure that we are better prepared for them in the future. This incident has made us see the vulnerabilities in our system and we have already started to work on more resilient backup systems which would kick in if any such incidents happen again.
We are currently working on the cell towers that were downed and as the roads are being cleared of the debris, it is becoming easier to access the destroyed structures and restore them. The services have already been restored fully in some areas and partially in others.
In the end, we would like to thank you for your patience and cooperation. We aim to serve you better in the future.
2.
I am [name] from [parlour name]. I am writing to you in reference to the incident that took place on [date] when you came to our [name] branch to get your hair cut and dyed. We sincerely apologize for all the trouble you faced. You had shown our hairstylist a picture but she couldn't give you the exact cut and when you informed her that you don't like the haircut, her response was not polite.
She shouldn't have argued with you, as we believe that the customer is always right. Rest assured that she has been severely reprimanded as we have zero tolerance for such behavior and all our employees are duly informed about our customer service policy at the time of hiring.
You had come to the salon with an image in your head that you had clearly shown to her. She should have delivered the same. We are extremely sorry that your hair was not cut in your desired style and that you left the salon in a bad mood. We realize that this problem will not end in a day as you would have to wait till your hair grow long enough to be cut again and you would have to live with our stylist's mistake till then.
Trust me this is an exception and not a norm as we pride ourselves on our customer service and our client's satisfaction is our main goal. As a token of our regret and goodwill, we are sending you a coupon worth [money]. You can avail of the services equivalent to this amount at any of our salons. Your satisfaction is guaranteed. Looking forward to serving you again.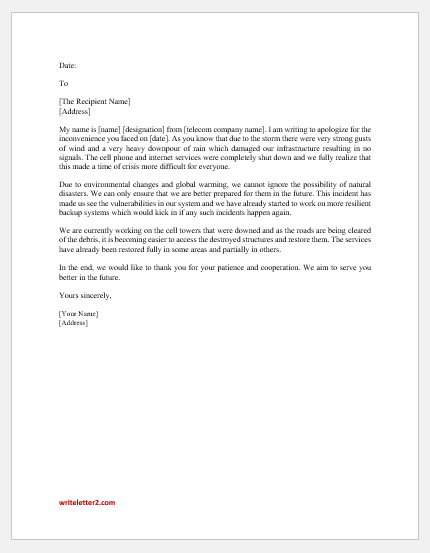 A poor service apology letter is written by the management to apologize for the poor service delivered. These letters are normally written as a response to a complaint made by a customer. Senior personnel or a senior manager is responsible for answering the complaints of their customers by means of such letters. The letter should state any steps taken by the management to deal with the complaint.
An apology letter should:
Have a very polite tone
Mention some actions taken as a remedy to make the customer feel valued
Include a brief description stating the reasons for providing poor service
State that the company accepts their mistake and will take measures to not repeat the mistake again
3.
Your anger over poor performance on our service contract seems absolutely justified. If I were in your position, I would have been equally or more upset. We have been in conversation with our staff responsible for providing you with the services. Your objections are genuine and your words are our bond. We will inspect the services each time the service personnel attends to you. We are keeping a close eye on our shortcomings and lack of attention will not be accepted by any service personnel.
I would like to hear your feedback the next time you receive our services. We are determined to rectify our mistakes, making sure they never happen again.