Grievance Letter for Verbal Abuse of Boss
Letter -1
Dear Employee, (Mention concerned employee's name)
The Great Minds, (mention the company's exact name)
I am writing this letter with much regret to draw your attention to an unfortunate affair observed at your end. Since you have been witnessed partaking in verbal abuse with your boss, it is now my professional duty to confront the subject matter providing you the relevant information about the protocols.
As you have been employed by The Great Minds for 2-years now, I am confident you are well-acquainted with the company policies regarding using abusive language, of any degree, to your colleagues and boss by now. According to the protocol, any employee slurring derogatory remarks, or using foul language within the professional premises will be subjected to stringent disciplinary measures and a frequency exhibition of a similar sort will lead to irreparable termination.
Given your previous clean ethical and work record, I have decided to forgive you this time as you will not be charged with anything under the company regulations for now. Nevertheless, I am also alarming you with a warning and reference for the future in this context. You will face strict corrective action should you repeat the same conduct.
The CEO expects you to align your demeanor with the company's regulations. You shall keep on carrying out your professional duties like before and prove yourself of a well-deserved upgrade through your due diligence.
Sincerely,
Mark Simba,
Director,
HR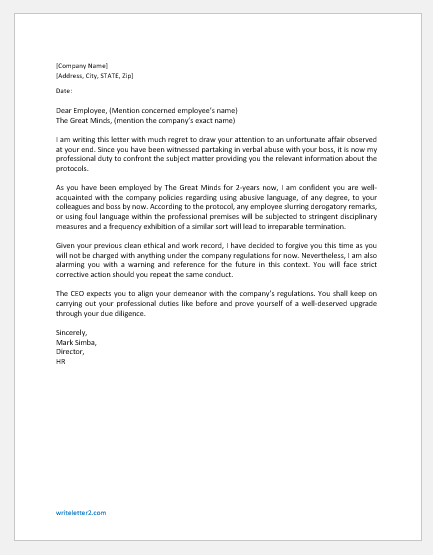 Size: 21 KB Word .doc File 2003 & later
Download
---
Letter -2
Respected Boss, (you can also write down your boss's name here)
I am writing this letter with a great grievance on account of your current abusive behavior with me. I have been a diligent and productive employee of your company for the past 2-years and I take pride in saying that Seven Stars has gained a lot of profit because of my excellent projects. Owing to my hard work and its results, I had always believed I would receive a welcoming and encouraging response from you but your recent conduct with me has shocked me.
You not only used foul vocabulary with me but also yelled at me in front of my colleagues for a reason I was not responsible for. Moreover, your overall demeanor has been quite humiliating to me recently. While I am unable to recognize a legit reason for you to keep such an abusive attitude with me, I also reckon this is the first time it has happened in my career at Seven Stars.
Henceforth, I am ready to let go of it with an expectation of you to not repeat it as we had quite a healthy work relationship previously. I would also like to request that if I made an error or carried an unlawful action, please facilitate me with a chance to explain myself instead of reacting to it.
I much appreciate your time to hear me out.
Sincerely,
Max Joe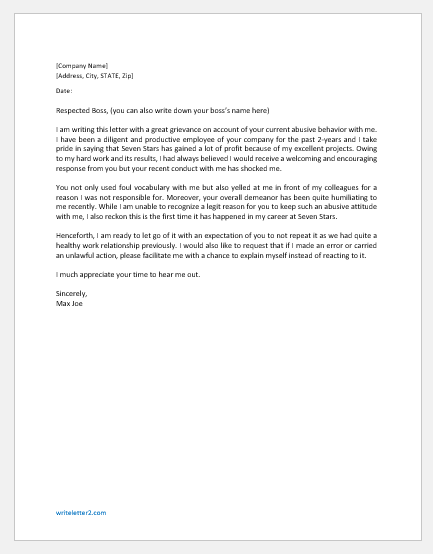 Size: 19 KB Word .doc File 2003 & later
Download