Reference Letter Template for a Co-Worker
A reference letter can be written for a co-worker. The main objective of writing the reference letter for the coworker is to assist him in getting a job. This letter tells the client about the coworker and how he has performed in the past and also the details about his skills and abilities.
The letter includes all the information related to the co-worker no matter it is personal or professional. This letter can directly affect the performance of the person in the future.
The letter of reference is a positive letter that is used to highlight the skills and abilities of the person. It also gives details about the accomplishments of a person. It can be helpful for recruiters in the hiring process. There is no specific format to be followed for writing this letter.
The target reader of the letter can be any person so, you will give the heading'' To Whom It May Concern''. The contents of the letter are very important as the whole future of the co-worker depends on it.
1-
To Whom It May Concern
I am writing this letter about [Miss AB] who has worked with me as a director in a company. She was given the task to proofread the contents before they could be published. She performed her duties well. She is a very talented girl and I believe that she can make a big difference wherever she will work since she has a passion for work. I hope that you will consider my reference letter for her in a kind way.
2-
To Whom It May Concern
I am pleased to write this reference letter for my coworker, Mr. John. I recommend him as a new sales manager in your company. I have been working with him as a colleague for the last five years.
Throughout this period, he recognized himself as a capable manager and proved his worth by means of effective marketing strategies. I had worked with him very closely for more than six years and always found him an enjoyable person to work with.
He was competent enough to double the profit of his sales division. In 2020, after the peak phase of COVID-19, he restructured his sales team and announced new strategies to reduce travel expenses. He has strong communication skills and learns new and unique things very quickly.
Honesty is one of the integral parts of his personality. He executes it in all relationships as well as business transactions. Moreover, he has integrity in his thoughts and approaches every task in a scientific way. His employment has been marked by his tremendous ability to cope not only with stressful situations but to thrive in them. Once he was noticed to complete an important project in a short time. He managed his workforce efficiently and completed that difficult-looking project a week before the deadline. This was how he proved his worth.
Owing to the above-mentioned abilities, I strongly recommend Mr. John. It is sad to know that he is leaving us, but this move is very important for his bright future. I assure you that John will use his skills to achieve your company's goals.
If you have any queries about him, don't hesitate to contact me through email.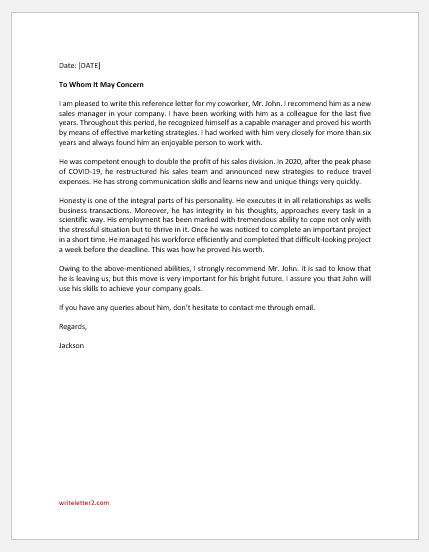 Download
---
3-
I am extremely pleased to submit this reference letter on behalf of my coworker, David. I hereby support his candidacy for the position of marketing manager at your company. I have worked with him for about five years in a star marketing company where he was known as an innovative and diligent person.
Throughout his stay in the company, he demonstrated his managerial skills and enhanced the overall productivity of the company. I always felt pleasure working with him and I believe he will make a positive contribution to your company as well.
David and I started employment at the same time. However, he surprised everyone during the first week of his employment when he completed an important project within four days. He impressed us with his motivation and enthusiasm to perform best at any cost.
Moreover, he is a great motivator and mentor. Employees in our company were always ready to take on new challenges due to their unique motivational style. If you hire him, he will do wonders because he is a confident, motivated and self-driven person. He is a leader by birth and will prove himself an excellent addition to any company.
Although it is sad to see him leave this company, at the same time I realize his need to relocate with his family. I believe that your company will provide him with an excellent opportunity for his professional growth.
If you need to know anything more about him, call me at [contact].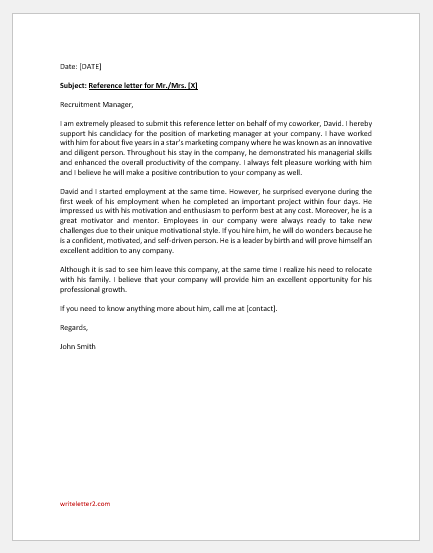 Download