Reference Letter for a Co-Worker
The reference letter can also be written for a co-worker. The main objective of writing the reference letter for the coworker is to assist him in getting the job. This letter tells the client about the coworker that how he has performed in the past and also the details about his skills and abilities. This letter also includes all the information related to the co-worker no matter it is personal or professional. This letter can directly affect the performance of the person in the future.
The letter of reference is a positive letter which is used to highlight the skills and abilities of the person. It also gives the details about the accomplishments of a person. It can be helpful for the recruiters in the hiring process. There is no specific format to be followed for writing this letter. The target reader of the letter can be any person so, you will give the heading of '' To Whom It May Concern''. The contents of the letter are very important as the whole future of the co-worker depends on it.
Reference Letter for a Co-Worker
To Whom It May Concern
Dear [Recipient's Name]-optional
I am writing this letter about [Miss AB] who has worked with me as a director in a company. She was given the tasks to proofread the contents before they could be published. She performed her duties well. She is a very talented girl and I believe that she can make a big difference wherever she will work since she has a passion to work. I hope that you will consider my reference letter for her in a kind way.
Sincerely,
[Your Name]
[Senders Title] -Optional-
Download Details: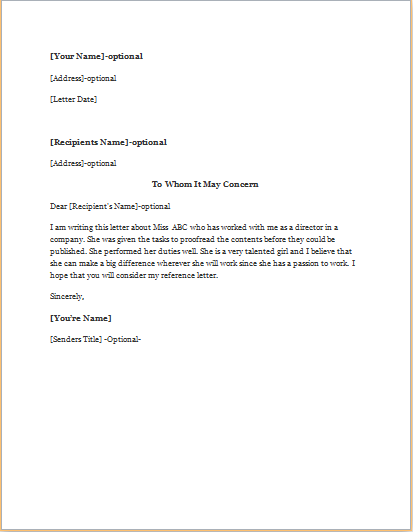 Reference Letter for a Co-Worker

Size: 25 KB Word .doc File 2003 & later
Download
Size: 201 KB PDF File
Download
[personal use only: Not for Resale & Distribution]