Complaint Letter about Employee Attitude
1-
I would like to bring an important matter to your notice. I Have been working as a senior sales rep at your company for the past six months. I have a great work record so far and I have been working with zeal and enthusiasm. Our previous team leader Mr. Michael Colby was an excellent boss and motivated us to continue to work harder and with dedication.
However, Mr. Colby had to leave unfortunately due to some personal reasons and Mr. Harrison Lee joined us as a new team leader. I regret to inform you that Mr. Lee did not turn out to be a great leader as Mr. Colby was.
Mr. Lee comes to work quite late and shows no interest in the progress of the work. He was also involved in a verbal spat with one of our co-workers over a petty issue. He has used abusive language on several occasions and most recently it happened with me when I politely requested him to report early tomorrow as we need his assistance in the morning.
He also shows a certain bias towards female employees and does not seem to mind when they take uninformed leaves but gets very angry when one of the male workers takes a leave. This has been happening for quite a while now and I would request you to please investigate this matter at your earliest. We are unable to concentrate on our work due to the toxic work environment. We hope to hear from you regarding this matter soon.
Thank you for your time.
Regards,
Mr. Peter John
Senior Sales Representative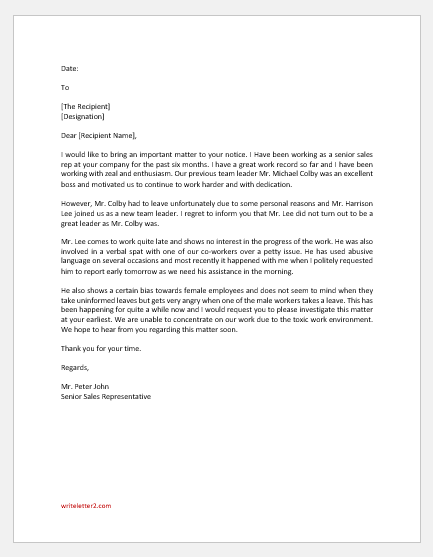 Size: 13 KB Word .doc File 2003 & later
Download
---
2-
Dear Mr. Smith Jonas,
Good day. I am writing today to make a complaint regarding one of our co-workers Mr. Mark Bloomfield. Mark has recently been hired as an assistant manager and he was working with us on our project which is due on 10th October. Initially, he was working well and seemed to have quickly adapted to our office environment.
However, lately, his attitude has changed a lot and he is showing little to no interest in the work. He is not taking his job seriously and is often not on his seat and unreachable on his cell phone during work hours. He was managing the project logistics for us and his continued absence during the work hours has severely affected our work progress.
Other workers and I have tried talking to him about it, but he argues with us instead. He also threatened to leave the job if we press him further. He paid no heed to our advice, nor took our suggestions seriously. We do not understand what's going on with him nor do we know how to alleviate the situation.
We request you to please mediate this matter through a third party or replace him with another competent worker who will help us get back on track with our work. We wish to have this matter resolved as soon as possible as we are already lagging with our project.
Looking forward to your response.
Regards.
Mr. Joe Brad.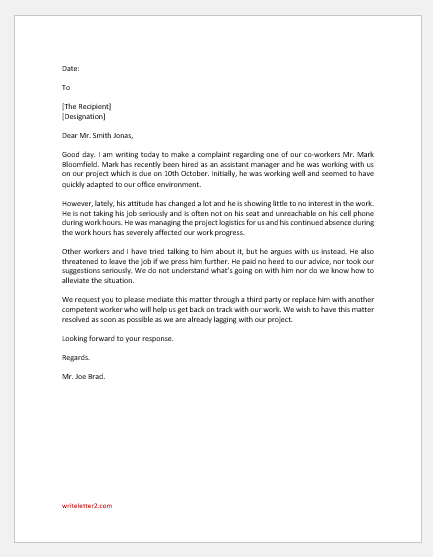 Size: 11 KB Word .doc File 2003 & later
Download