Letter Endorsing Compassionate Nurse for Award
Different organizations have different ways of appreciating the work of their employees and encouraging them to work even better. Sometimes these appreciations are in terms of awards and certificates which are given as achievements to the employees. Such kind of acts not only acknowledge the good work of the staff but also encourage them to work with more passion and interest in the future. For this purpose, specific people are nominated and then given awards on the basis of their excellence. Following are letters that are used for the endorsement of compassionate nurses for the award.
1-
I wish to recommend Ms. Amanda Seymore for the Goodwill award recently announced by the Primary Healthcare Organization. Ms. Amanda has worked for our hospital for fifteen years now and is undoubtedly the most deserving candidate for this award. She has taken care of patients with cancer, dementia, and burn victims.
She is always assigned to the wing whose patients need utmost attention and care. She has had special training to tend to the burn patients and would often sing songs and dance for them to make them happy.
In addition, she was quite popular with the pediatric patients too and the children adored her as she would play their favorite games with them.
Ms. Amanda Seymore is the epitome of compassion and kindness and has worked selflessly for many years. She deserves not only this award but also a rise in her salary too. A few years back, she also cared for my wife during childbirth, and I remember my wife telling me how this nurse made her feel comfortable during this very difficult time.
She was never too tired to help and would often wake in the middle of the night to care for my wife as she was in pain often. I would recommend Ms. Amanda for the Goodwill award as she deserves this award more than anyone else in my opinion.
Thank you for your time and consideration
Regards,
Mr. Jack Williams.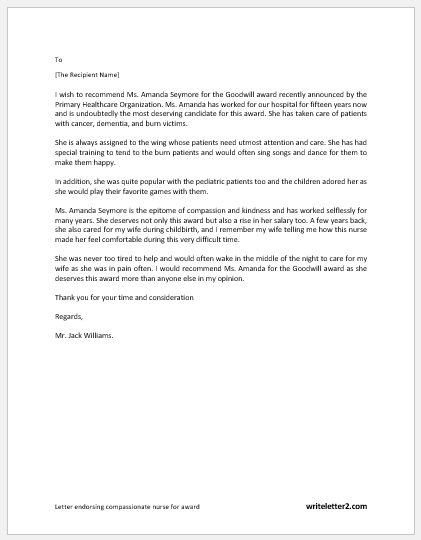 Size: 15 KB Word .doc File 2003 & later
2-
Dear Mr. Adam Sandy,
I am writing to express my wish to nominate Mr. William Smith, also known as Big Williams, for the Compassionate Nurse Award. Big Williams is the most kind-hearted and hardworking nurse at our hospital, and I have known him for about twenty years now. He started working with us when he lost his child in a car accident. He was very close to his son, and I remember he was devastated when he heard the news of his child's passing.
Big Williams joined our hospital as a nurse soon after and added his son's name on the wall of hope. He has a special affiliation towards children and always expresses the wish to be assigned to the children's ward. I believe that this is the least we can do to pay him back for his years of service for our hospital and especially for pediatric patients.
Moreover, I would also request to pay him a monetary award in addition to the compassionate nurse award. He is admired by all our staff alike and is missed dearly whenever he is on leave. He is always happy to help his patients in any way that he possibly can and is never too tired of his duty.
I would be very grateful if you take my recommendation for his name and endorse him for this award. Please feel free to get in touch with me in case you need any further details regarding his work or personal life. Thank you for your consideration.
Regards,
Mr. Corey Jones.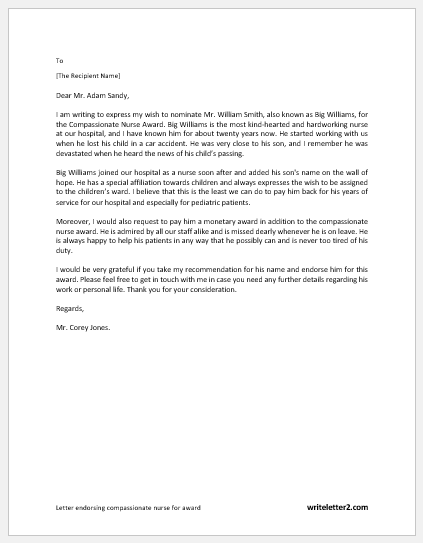 Size: 15 KB Word .doc File 2003 & later
3-
Dear [Recipient's name]
Ms. [Nurse's name] is a highly compassionate nurse. She has worked day and night in the halls of this hospital. Her kind attitude towards the patients has always been remarkable. She is a nurse highly dedicated to the tasks assigned to her. Her patients always acknowledge her hard work and special caring behavior.
Once my father had to be admitted to this hospital due to a severe back injury, he was treated like a family member. During that time nurse [nurse's name] took care of my father as I would have myself. She used to stay up all night to keep a check if he needs anything. She worked overtime in those days and I came to know how dedicated of a nurse Ms. [Nurse's name] is. She deserves a piece of acknowledgment and I nominate her for the [award's name] for the year [20XX].
Thank you very much.