Letter Endorsing Compassionate Nurse for Award
Different organizations have different ways of appreciating the work of their employees and encouraging them to work even better. Sometimes these appreciations are in terms of awards and certificates which are given as achievements to the employees. Suck kind of acts not only acknowledge the good work of the staff but also encourages them to work with more passion and interest in the future. For this purpose, specific people are nominated and then given the awards on the basis of their excellence. Following is a letter that is used for the endorsement of compassionate nurse for the award.
Letter Endorsing Compassionate Nurse for Award
[You Name]
[Address]
[Letter Date]
[Recipient's Name]
[Address]
[Subject: Subject of Letter] -Optional-
Dear [Recipient's name]
Mrs. [Nurse's name] is a highly compassionate nurse; she has worked day and night in the halls of this hospital. Her kind attitude towards the patients has always been remarkable. She is a nurse highly dedicated to the tasks assigned to her. Her patients always acknowledge her hard work and special caring behavior.
Once my father had to be admitted to this hospital due to a severe back injury, he was treated like a family member. During that time nurse [nurse's name] took care of my father like I would have myself. She used to stay up all night to keep a check if he needs anything. She worked overtime in those days and in those times I came to know how dedicated of a nurse Mrs. [Nurse's name] is. She definitely deserves a piece of acknowledgment and I nominate her for the [award's name] for the year [2017].
Thank you very much.
Yours Sincerely,
[Your Name]
[Your Title] -Optional-
Download Details: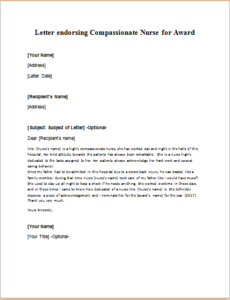 Letter Endorsing Compassionate Nurse for Award
Size: 25 KB Word .doc File 2003 & later
Download
Size: 265 KB PDF File
Download
[personal use only: Not for Resale & Distribution]