Thank You Letter for Salary in Lockdown
1-
We, the employees of XYZ Company want you to know how thankful we are to you for your kind help in the form of continued salaries during the lockdown. After the day when the government announced the lockdown, we all were worried about how we could fulfill the needs of our families. That was a time of worry but you provided peace of mind to your employees and their families and we are grateful to you for this generosity.  
Your dedication to the welfare of employees is highly appreciated. Everybody knows that life with COVID-19 changed the ways of living across the world. Business activities were halted all the way. Companies were temporarily closing, offering work from home and some were even announcing laying off. Our company was also closed for a few months and we were afraid of being unemployed but then, by virtue of a generous boss like you, we were fortunate enough to be paid even during that hard time.
In fact, we all are blessed to have you as our boss. You have made a special place in our hearts through your act of kindness and we sincerely appreciate your thoughtfulness because you remembered us during a hard time. It will surely have a positive impact on our performance, our relation will be strengthened and we will be able to work with zeal and zest throughout of attachment with your company.
In the end, you are assured that with our commitment towards the company, we will make it stronger than ever and play our part to raise it up to celestial heights. Once again thank you for your generosity.
Sincerely,
Employees of XYZ Company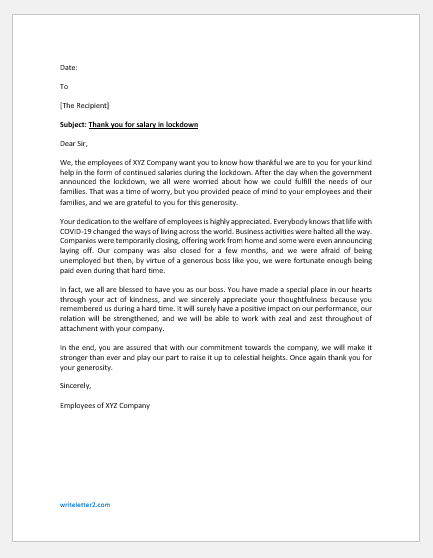 Size: 19 KB Word .doc File 2003 & later
Download
---
2-
Subject: Thank you for salary in lockdown
Dear Sir,
I am taking this moment to say thank you and want to express my deepest gratitude for continuing my salary during the lockdown. I sincerely appreciate you for being supportive during the pandemic. When COVID hit across the world, many companies were unable to support their employees. Therefore, they halted their business activities. In this way, millions of employees became unemployed within hours when many companies announced lay off.
A sincere boss is a great blessing and without any exaggeration, you are among those who always have a soft corner for their employees. I know how hard it was for you to manage the salaries of every employee of your company. But you went out of the way to help us in that hard time and in this way, you took the financial burden off our shoulders. Your generosity proved a real lifesaver. We were able to fulfill our family needs during the pandemic, otherwise, we would have been in trouble without your kind support.
Now we are looking forward to returning your favor in the form of enhanced performance. Surely, we will work with more Zeal and zest for the well-being of the company. We look forward to maintaining sincere relations with the company. Thank you again.
Sincerely,
All employees of RKH Pharmaceuticals.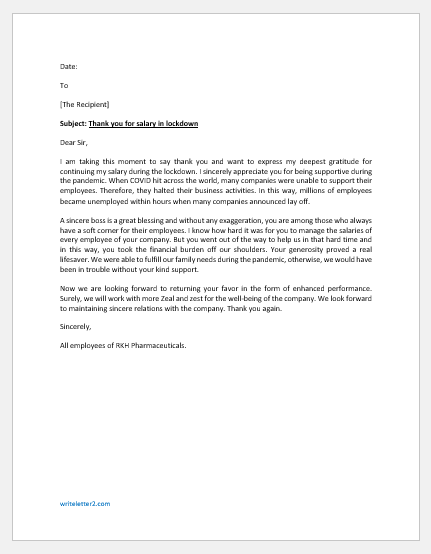 Size: 21 KB Word .doc File 2003 & later
Download