Apology Letter for Resignation without Notice
#1
Subject: Apology for resignation without notice
Dear Sir, I hope you will be doing well these days. My purpose in writing this letter is to submit my formal apology to you because of my resignation without prior notice. I am aware of the inconvenience you might have faced due to this act of mine. Also, it was a legal requirement from my side to send you a one-month advance notice before resignation.
What I want to say through this letter is that I had to face circumstances that were beyond my control. Owing to these, I had to resign and while doing so, I could not inform you through prior notice.
Last month, I received an offer letter from one of the public sector organizations where I had already applied for the post of assistant director. Prior to joining that organization, I had to be imparted one-month mandatory training which was starting the very next day after I received that letter.
Since your organization is a private one and the facilities, I was being offered in that public sector organization were far better including residence, a free meal, and an official vehicle for personal usage. Therefore, keeping in view the scenario at that time, I decided to leave your organization.
No doubt, it is the basic right of every employee to search for a better job but at the same time, it is also his moral duty to follow the rules and as per the agreement, it was my obligation to inform you in advance through a notice.
But I failed to do so and therefore, thought it necessary to submit my apology for my actions.  I hope you will forgive me for keeping in view the situation prevailing at that time.
Yours sincerely,
[XYZ]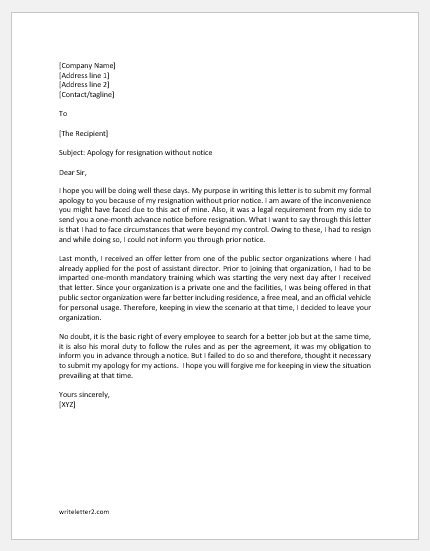 Size: 21 KB Word .doc File 2003 & later
Download
---
#2
Subject: Apology for resignation without notice due to [X]
Dear Sir,
I hope you will be doing well these days. I am Arjun and I had been working in your organization as a store supervisor for the last ten years. Through this letter, I formally want to submit my apology for my unprofessional act in the form of resignation without any prior notice.
I know you might have faced a hard time because of my sudden absence but I am sure that after listening from my side you will develop a soft corner in your heart and forgive me for my unprofessional act.
On the 10th date of last month, I was informed by my wife that our child has been diagnosed with chronic liver disease and that the disease could only be cured in a hospital in California. Keeping in view the severity of the disease I had no other choice but to move with my family towards the state of California.
On reaching there, I submitted my resignation without any prior notice. Later, I felt that this act of mine was not acceptable in any case since I had spent quality time in your organization. Your behaving towards the employees was friendly and I had chanced to learn a lot of new and innovative things while staying in the organization.
I am in the best knowledge of the fact that my act is sheer negligence of the company rules and that it can result in non-payment of my provident fund and salary arrears on account of sudden resignation as per company rules. But at the same time, I request you to consider the whole scenario of that time and accept my apology. Thanking you in anticipation.
Yours affectionately,
[XYZ]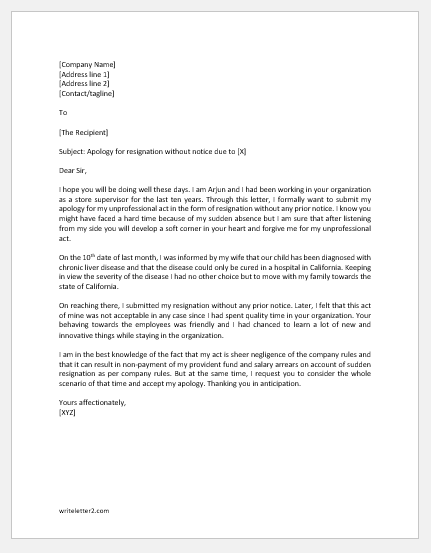 Size: 21 KB Word .doc File 2003 & later
Download