Power of Attorney Letter for Motor Vehicle
Handing over the power of attorney of something to someone means you officially entitled them to do business on your behalf. The person given the power of attorney is now eligible to take care of your object in any way they want because you have entrusted him to do so.
The power of attorney for a motor vehicle means you give someone the right to maintain the vehicle or sell it on your behalf in the legal capacity. However, this person, also called an agent, signs the papers on the condition that the original documents will remain in the possession of the original owner of the entity. You can shift the authority to a trustable company as well.
It is totally the owner's duty to find an individual or a company that is compatible with his demands and needs. However, he should make sure the agent is trustable and not fraudulent for he may be deceived.
These powers are not confined to a certain limit or push one to transfer all possible rights to the agent. It is totally up to the owner to what extent he/she wants to allow the agent to transact on his behalf. You are entitled to give them the registration right only without allowing them to sell the vehicle or give it on lease to a third party.
For conferring your powers to an agent, you have to make sure you have insurance proofs, registration documents, license plate, and certification of title. In the pursuit of making this agreement deem legal, the owner must sign the agreement form in the presence of a notary public and make sure it is Bonafede. Getting it attested from a notary officer would also further help in official commitments and transactions.
While you write this power of attorney for a motor vehicle, make sure you are not using ambiguous language that could leave loopholes in the content having the potential to be manipulated. Stay factual, mention each and every term and condition both parties have agreed upon, and don't miss a single detail assuming it won't hurt you. All the verbal deals should also be written down for the record.
Read the following sample for getting an idea on how to write a power of attorney for a motor vehicle. You can change the details according to your requirements.
Sample Letter
Power of attorney for motor vehicle
I, Linda Adam, hereby announce that I with a mailing address of House# 1234, Abc St, Raleigh, am conferring my power of attorney to Mr. Kamal from XYZ Vehicles (company or individual name you are giving the powers to) or its designated agent with a mailing address of 9876, Xyz St, Westchester Rd, Raleigh, for 1-year, unless subjected to change in written words on the form, with limited powers.
Mr. Kamal is officially entitled to act on my behalf regarding registration, title, and license. However, he is not in the legal capacity to transfer the ownership, lease the vehicle, or do anything other than the mentioned powers.
(Owner's) Social security number:
(Owners) Date of birth:
Owner's signature
Date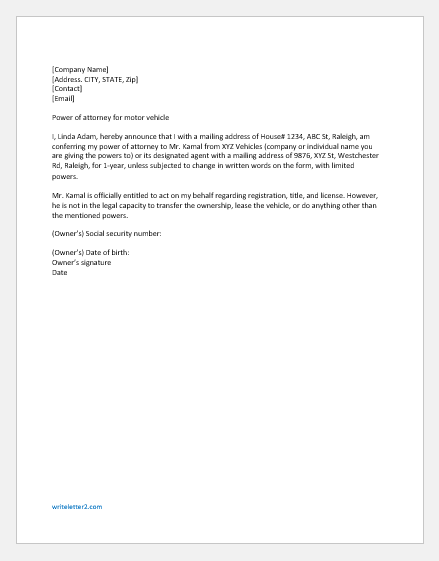 Size: 22 KB Word .doc File 2003 & later
Download