Apology Letter to Neighbor for Mistreating
Respecting our neighbors and taking care of their rights is our moral and ethical duty. We can all be ignorant towards our duties sometimes. If we treat our neighbors badly, we should apologize to them quickly as they live just next to us and we might need them at any time.
State any reasons for treating your neighbor badly. Be honest in your reasons. Accept the responsibility for your acts and admit that it was your mistake. Apologize politely and sympathize with your neighbor as their feelings have been hurt by being treated badly.
Promise them to be conscious about their actions and behavior in the future. Assure them that they will be treated with respect and they will not need a chance to complain again.
Letter -1
I hope and pray that this letter finds you in the best of your health. You and I have been living in the same neighborhood for the last 15 years now and our families have developed a deep bond of friendship over these years, making frequent visits to each other's place and taking care of each other through thick and thin. I am writing to you because I wanted to apologize to you for the rift that took place a couple of days ago between my wife and Mrs. Braganza.
It was the day before yesterday when it was Sunday and I was busy in the backyard, gardening while my wife was doing the laundry. At the same time, I saw Mrs. Braganza was playing and taking your pet dog, Broskie to the walk-in your backyard which is separated by a short hedge.
I have no idea what happened to Broskie all of a sudden and he ran into our backyard and leaped at the clothes hanging on the cloth line, messing all of them with dirt, dust, and mud all over. This spontaneously made my wife freak out and overreact because she has been having a splitting backache but she insisted to get done with the laundry before the forecasted rain comes in.
She could not control her overwhelmed situation and started shouting at Mrs. Braganza which was so unlikely of her because she is a cool and calm-minded person overall. She was extremely upset at the fact that she had to do the clothes all over again from the scratch and this eventually led her to misbehave with Mrs. Braganza.
I am extremely sorry for the hurt that my wife, Tracey caused Mrs. Braganza and I am thankful to her for her large-heartedness that she did not respond back or react to the mistreatment of my wife there and then, otherwise, chaos would have been caused in the neighborhood and both of us would have been caught up in a rather awkward situation in front of other neighbors.
I later made Tracey understand that she overreacted and that whatever happened, Mrs. Braganza was not to be blamed anyway. She is embarrassed by her misbehavior as well and will visit you tomorrow in the evening to personally apologize for the hurt feeling caused by her. I apologize for that as well and I assure you that such a thing won't ever happen again in the future.
I hope you and Mrs. Braganza would pardon us and keep no grudges and ill wills against us in your hearts. Thank you.
Yours truly,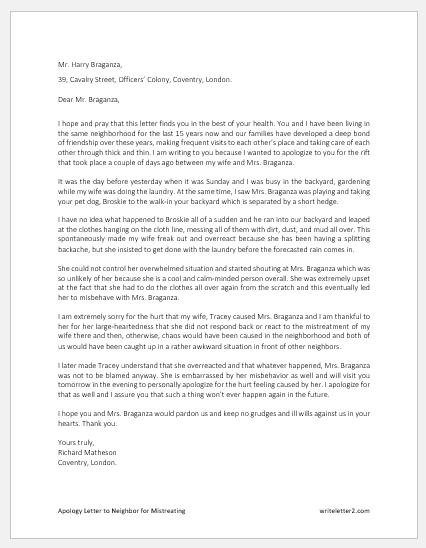 Size: 13 KB Word .doc File 2003 & later
Letter -2
Dear [Recipient Name],
My children are students living in New York. They just came over to see us during their end of term which happens twice a year. Whenever kids are home, they make a point to arrange for some dinner or party at our place so that they can meet all the relatives and friends at one time.
Youngsters these days are very different from our generation. They like being independent and not listening to anyone. The kids arranged a party the other night. A lot of people visited our home including friends and family. The party went till very late at night. I know our guests were using your parking lot for parking their cars. I should have informed you and asked for your permission.
The music was very loud as well. I did not realize the fact that your kids might be having their exams and they need peace to study well. I am very embarrassed to know that you came over to our house with some complaints in return to which my kids treated you in a very bad way.
I apologize to you on their behalf. You have been a wonderful neighbor who has never given us any disrespect or displeasure. Taking care of your rights is our duty. And I am very sorry for that. My kids have realized their mistakes as well and we like to apologize to you in person soon.
Download Details: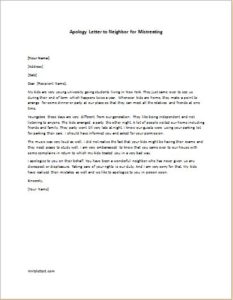 Apology Letter to Neighbor for Mistreating
Size: 38 KB Word .doc File 2003 & later
Download
Size: 122 KB PDF File
Download
[personal use only: Not for Resale & Distribution]