Letter of Introduction to Bank
1-
My name is Alex, chairman of System Operations and I intend to introduce my company and establish long term relationship with your bank. Our industry has recently been set up and it has taken on its board the experienced software engineers and experts IT professionals.
Based in Michigan, the company is being smoothly run by five professional board of directors who earned their name in the software industry after a years-long struggle and they have worked with many top-ranked software houses in the country before joining our company.
As far as the rest of the employees are concerned, they have a different ethnic and lingual background, come from surrounding areas, and had either worked with other software industries or developed their own software independently. Soon after our establishment, we have been able to make our repute in the market because of the top quality IT solutions we provide to our clients. As the chairman of this company, I have been given the responsibility to request you to open bank accounts for the company and its staff.
I already have a saving account with your bank and I am very happy and satisfied with your customer-oriented services. I thought it would be beneficial for the staff if they also become your account holders. Please facilitate us and open an account in the name of system operations as soon as possible. All the required documents will be provided to you whenever you demand.
The account opening form for the company has properly been filled and attached to this letter. Moreover, we require you to provide us with online banking. I have enclosed other relevant documents for verification purposes. In addition, authorized signatures of directors and company insurance certificate letters are also being attached herewith. For the staff, I request you visit our company office so that they would personally submit their respective documents and prove their identification.
In terms of transactions, we are expecting a range between $500,000 to $600,000 minimum. This amount is expected to be increased as soon as we expand. I hope you have got enough information through this letter in lieu of an introduction. I would like to meet you in person so inform me through email regarding this.
Yours sincerely.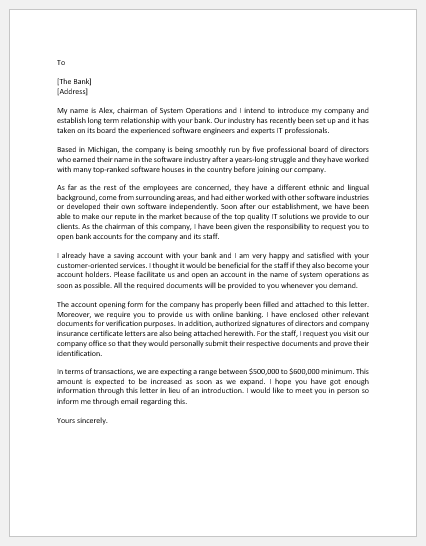 Size: 19 KB Word .doc File 2003 & later
Download
---
2-
I hope you will be doing well these days. My name is Andrews, chairman of an agriculture-oriented company and I wish to take the opportunity to introduce my company to you and your bank.
Through this letter, I would like to tell you about the company, the services it offers to establish and strengthen our relationship in the long run. Our company name is Pioneer Seeds and we have recently established our branch in Michigan, USA. We have been in operation since 2002.
At Pioneer Seeds, farmers carrying supreme importance because our goal is to enhance their crop production. For this purpose, we spend a lot and arrange special conferences and seminars for them. We continuously seek ways to increase their productivity and for this purpose, we hire various renowned professionals.
We believe in teamwork which is highly valued and appreciated here at Pioneers Seeds limited. We are regular taxpayers and cooperate with our nosiness and tax advisors. We feel proud of providing each client with the quickest possible solutions to their relevant needs.
Our main activities include marketing and customer services. We give supreme importance to our clients who associate with us. This is the reason behind the fact that we have earned our name in a very short span of time.
As a company, we have to perform a lot of transactions on daily basis. Owing to this reason, we would like to associate with you because your customer-oriented service has already been experienced by one of our directors and he personally made me communicate with you. You are hereby requested to open an account in the name of Pioneer Seeds as soon as possible.
We assure you to maintain a positive balance in the company and it will be helpful for you also to achieve your monthly and annual financial targets. All the relevant documents are being attached and enclosed herewith. If you need any further information, you can contact us at our email address.
Yours sincerely.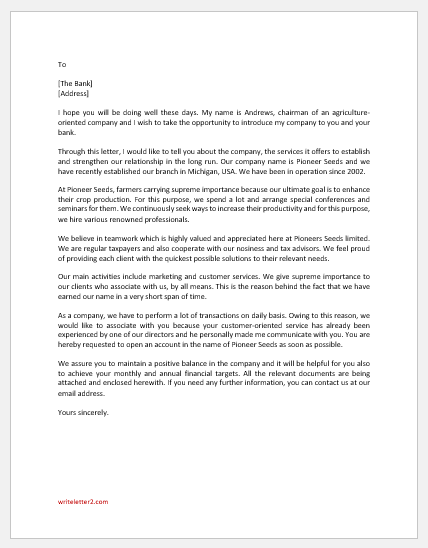 Size: 22 KB Word .doc File 2003 & later
Download