Apology Letter for Late Payment
In this day and age, our business relations matter a lot. Every relationship that has a monetary value attached to it needs a lot of attention and care. If we delay any payment due to any reason, it is our duty to apologize.
Firstly, politely apologize for the delay and mention that you remember the payment deadlines. Secondly, explain any reasons for the delayed payment and be honest with your reasons. Try to make the payment as soon as possible. Pay for any delayed loss caused to the client and give your vendor the confidence that he will receive timely payment in the future.
1-
I am writing to apologize for the late payment of this month's installment. I had bought a washing machine from your shop on [date] on monthly installments of [amount]. As you know that I have always been very regular in paying my installments but last month some unforeseen expenses came my way due to my entire family getting infected with Covid. The tests, medicines, and the varied expenses that come with such a disease left me short of cash.
As you know that I am a middle-class person and do not have the funds to bear extra expenses. I am really sorry for the inconvenience and stress it must have caused you but rest assured that I would pay the amount of the missed installment along with this month's installment within two months. Please help me out by giving me this leverage. I would be extremely grateful.
Looking forward to your consideration and positive response,
Yours sincerely,
2-
I am writing to apologize for the late payment of the furniture bill. Our office has recently been renovated and we had ordered all the furniture for the new space, by you. You delivered everything well in time as promised and the quality was above expectation.
It is humiliating for us that your payment has not already been made. The fact is that due to a lot of outgoing payments, our finance department is a little backlogged right now due to this reason the payment due to you, was delayed by two months.
We deeply regret the inconvenience and the unprofessionalism displayed but trust us it was not intentional, and your full payment would be made by the end of this week. The finance department has been directed to expedite the processing of your bill.
Looking forward to your understanding and consideration.
Yours sincerely.
3-
Dear [Recipient Name],
Thank you so much for being a punctual vendor. I have a list of vendors and you have always been the best so far with the quality of your material and in terms of punctuality as well. I hope our business relationship grows stronger over time.
I work on very ethical business terms and I always try to pay all my vendors on time. But sometimes, we all get some delays in payments due to some of our own personal reasons. I had to pay various vendors in the last two weeks. I had sufficient funds in my account and I was expecting some payments from my customers. My customers delayed the payment due to which I was running short of cash and I was not able to pay you.
I am ready to pay any extra charges for the loss that I may have caused you. You can be sure that this delay was the result of some uncertain situation and that I will take extra measures to make sure that this will not happen again.
I have attached a cheque with this letter. I hope our business relations will continue as ever despite the little problems we face at times. I highly appreciate your patience and understanding over this matter. Please let me know any of your concerns. I will be more than happy to respond.
Sincerely
[Your Name]
Download Details: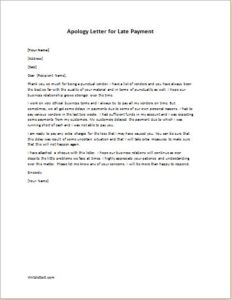 Size: 38 KB