Illegal Parking Complaint Letter
Illegal activities are always highlighted everywhere. The people in all concerns try to avoid illegal actions. Illegal activities are strongly condemned by general public. There are various activities which are considered illegal like smuggling, corruption, software piracy, narcotics and illegal parking etc. The government of all countries has strong rules and policies against all kind of illegal activities. People who never follow the proper rules and law are always punished. A strict and strong action on illegal issues results in the reduction of crimes. In the issue of parking, it is a general courtesy to park properly in the right area. One should not park the car in those areas where no parking board is available. People should also not park in reserved areas. When illegal parking is done, a complaint is sent to the traffic police or owner of locality to resolve the issue. The complaint letter must specify the details related to illegal parking as to analyze and resolve the issue for prompt responses.
Illegal Parking Complaint Letter
Bolete Restaurant
David Wheelock
45 St. square Bridge Avenue, Los Angeles.
26th May 2017
Mr. Nicholas Butler
Mayor
Mayor Office South.
10 South St, Round Bridge Avenue, Los Angeles.
Dear [Recipients Name],
I am David Wheelock owner of Bolete Restaurant. I have a complaint of illegal parking of Ocean View Apartments. The building is adjacent to my restaurant. The residents of the building have started parking their cars in front of my restaurant. It has been more than a month; I am having this issue. I have reserved parking of my restaurant. My customers are having much difficulty in parking. I am receiving a lot of complaints on daily basis. This issue is deeply affecting the popularity of my restaurant. I had sent the complaint letter to the owner of Ocean View Apartments twice, but nil response. Today I am writing to you to resolve my issue. As you being the Mayor of Cape Town, I hope you will resolve my issue as soon as possible.
Thank you for your time. I look forward to your kind cooperation.
Sincerely,
David Wheelock.
The Owner, Bolete Restaurant
Download Details: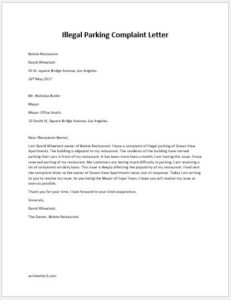 Illegal Parking Complaint Letter

Size: 33 KB Word .doc File 2003 & later
Download
Mobile Version: Polaris Office & Google Docs
Size: 21 KB File
Download
[personal use only: Not for Resale & Distribution]