Letter of Rejection of Extension of Tenancy
A tenancy is an agreement that allows an individual to live in a property owned by someone else. An agreement is made between the two parties, monthly rent is decided, and usually, legal documents are signed.
A contract of tenancy usually lasts for a year. The tenants must pay rent until the end of the contract even if they decide to relocate before it ends. In some cases, the tenant may ask for an extension of tenancy to another few months if he wishes to stay for longer. This agreement depends entirely on the owner of the property. He has the right the terminate the contract any time he wants with a few weeks' notice. The prior notice is given to the tenant to ensure that he can find alternate arrangements so he can easily relocate.
Usually, an owner won't terminate a contract before its due time, however, if the tenants do not pay rent on time or are creating other problems on the owner's property, he has the right to end the contract.
Request for extension of tenancy
A tenant may wish to extend his tenancy and for that, he must write a letter to his landlord. It is crucial to note that such a letter can be written only when the contract is valid. Do not wait to write a letter for an extension of tenancy after the contract has expired. In that case, you may write for a renewal letter of not extension. This would be up to the landlord to decide whether he accepts your proposal or not.
Rejection of extension of tenancy:
If you are a landlord and your tenant has requested you for an extension of tenancy, you have the right to reject it. There can be several reasons for rejection, for example,
the tenants have been disrespectful in the past,
have failed to pay rent on time,
have vandalized the property, or
caused disruption in the neighborhood.
If, as a landlord, you wish to reject their request for an extension of tenancy, you may do so in a polite and professional manner. You can list any reasons you think are the cause of your decision and you can specify a date up till when they can leave the premises. If there is any room for consideration of their request, do mention that in your letter of offer to let them stay if they agree to a rent raise.
Following is an example of a letter of rejection of the extension of tenancy
Sample Letter
To
Mr. Barb Dolores.
From
Carter Stevenson
Owner of Sunnyside Condo
31st August 20XX
Dear Mr. Barb,
I regret to inform you that I cannot accept your request for the extension of tenancy. I signed a contract with you on 31st August 20XX and now after a year, the agreement has ended. This clause was clearly mentioned on the contract papers you signed. I can allow you to stay for 2 weeks more while you look for another residence however, I won't be able to accommodate you beyond that.
A new tenant has expressed his wish to take this apartment on 10% extra rent and he wants to move in as soon as possible. If you wish to continue your stay, you will have to agree to the rent raise and to pay your rent on time. The last two payments you made were both at least ten days late. I may consider extending our agreement if 10% rent raise is acceptable for you. If this proposition suits you, please let me know by 2nd September so I may consider it. Otherwise, you may look for another affordable place within the given two weeks' time frame.
Please respond to this letter within a day as you are already late as per the contract.
I look forward to hearing from you.
Regards,
Carter Stevenson
Signature.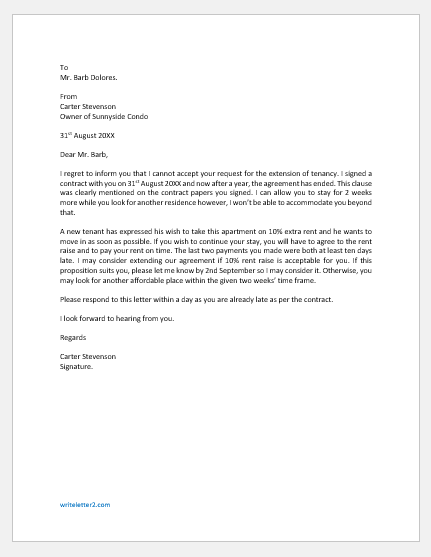 Size: 22 KB Word .doc File 2003 & later
Download