Complaint Letter about Shipping Error
Errors occur often when distant buying-selling is done. It could be the shipment of a wrong or damaged product, late or no delivery, etc. In such cases, the buyer should complain to the seller/selling company so that he may be compensated. Even though the company is responsible for such errors it should still be taken into consideration that humans are prone to errors even computers sometimes make mistakes. Therefore, while writing a complaint letter, the matter should be explained in detail and the demand for compensation can be made but the complainer should try to use ethical language and a mild tone.
1-
I am writing to inform you about the shipping error on your part regarding our furniture order from your company. Our invoice number is 99027 and we placed this order on 15th December 20XX. We have received our order however some of the items are missing. Our order included six chairs, one main table, and two side tables.
We were happy to receive our order on time however much to our dismay, some of the items were missing. Two chairs came in a different color than the rest of the chairs and one of the side tables was broken. We would like to officially place a complaint regarding this error in our order and request you to kindly compensate us for this.
We needed these furniture items for the new year's party we are planning to hold at our place. If possible, please send us the correct items as soon as possible so our new year plans are not affected.
We can give you an option to refund our entire amount and take all the furniture back, so we order it from another company. If a refund is not possible, then please send us the correct items exactly as we ordered, within 2 days.
Considering your previous good service and many orders that we have placed with your company earlier, we decided to not raise the matter on a public forum and contact you directly instead of through a letter. We look forward to your prompt response.
Regards,
Andrew Collins.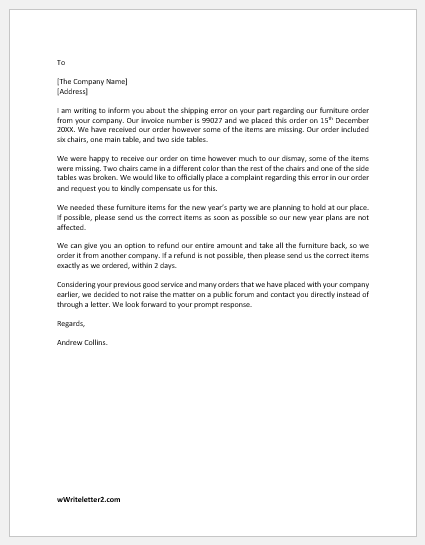 Size: 15 KB Word .doc File 2003 & later
2-
Dear Kenneth Johnson,
I wish to inform you that I visited your store in the Beverly Hills on 15th December and placed an order of two coats and five pairs of jeans customized to my size. These items were promised to be delivered to me till Christmas by one of your employees.
I have recently moved to a new place and my current address is 15 Kensington Street, California. I specifically mentioned it to your employee and asked him to please replace the old address with this new one. He assured me that he will do it and have the items delivered as soon as possible. I am disappointed to learn that he sent the items to my old address where they got lost in the mail.
I am writing this letter to formally place a complaint and to ask for either refund of the entire amount or send the items to my correct address as soon as possible. I would prefer the latter option and hope that you are able to send me the items to the correct address before the new year holidays.
If this is not possible for you guys, please refund my $400 in my bank account and send me a receipt of it to my address. I hope that you will cooperate with me in this matter as you can see this was entirely a fault at your employee's end.
Thank you and regards,
Ms. Julia Styles.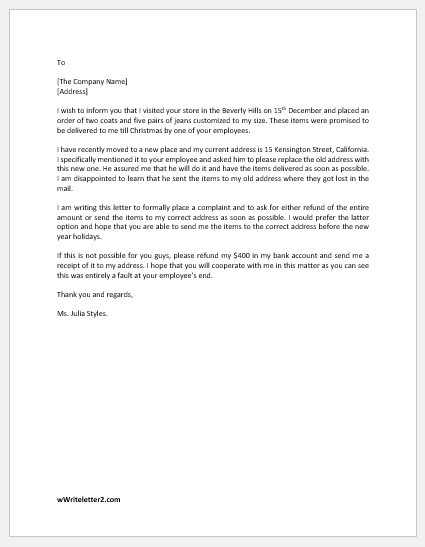 Size: 15 KB Word .doc File 2003 & later
3-
I had ordered a product from your online store i.e. foot massager. One week passed and I did not receive my order. Yesterday I got a phone call from a stranger who told me that my parcel had mistakenly been placed at his door because the address on it was wrong. He was able to contact me with the help of my phone number written on the parcel.
I can understand that it was by error. The person was nice and honest enough to have told me about it. I have requested him to contact your company to record this matter so that you may retrieve the package from there and deliver it to me since I have made payment for it. I hope this will be done within a week as my foot ache is worsening and I am in desperate need of a foot massager. Kindly inform me when the parcel is sent. Thank you!
Sincerely,
Download Details: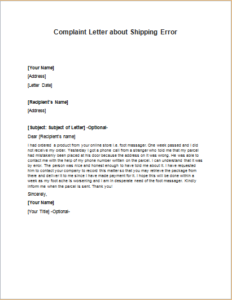 Complaint Letter about Shipping Error

Size: 25 KB Word .doc File 2003 & later
Download
Size: 160 KB PDF File
Download