Letter to HR to Transfer Salary in Another Account
A salary account is the bank account usually granted to an employee by the company itself and in which his salary is transferred. Usually, this bank is officially affiliated with the company and the account information is communicated to the employee. All the employees are granted an account in the same bank to make the HR department's work easier. The HR won't have to transfer the employees' salaries into multiple bank accounts, and they can just make one list of salaries if they all are affiliated with the same bank.
Why would one need to change the salary account?
Sometimes an employee might want to change his salary account owing to technical difficulties. He may have been unable to perform necessary transactions from his account. The issue usually gets resolved if the bank is contacted.
In some cases, even the bank can't help sorting it out and they may advise to change the account and close the previous one that's creating issues. These technical difficulties usually happen if the maximum limit of the account has been reached or if there is any other technical issue at the bank's end.
Moreover, sometimes the employee might have to move to another city for work and he may need another bank account that is easily accessible in that city so he may require a change in salary account.  
In case you need to write a letter to HR to transfer salary to another account, you need to provide all necessary details to HR beforehand to avoid any delays in the salary transfer. The following points should be considered while writing a letter to transfer salary to another account.
Provide details of your previous account as well as the new account. State your full name, the bank name, account number and your designation. You should double check these details as providing incorrect account information can lead to problems later.
State the reason why you changed your account. Be brief and concise in your reasoning and make sure it's a valid reason for a change of account. Either way the HR will most likely investigate the change in account themselves too so be truthful while stating the reason.
This is an official communication between you as an employee and the HR and can be kept for record. Be professional and make sure to not make any errors or spelling mistake while writing/typing the letter. You can proofread your letter to make sure its accurate and error free.
Sample Letter
To,
Mr. Henry Fraser
HR manager
White enterprise
Cornwall, England.
Dated: 19th September 20XX
From
Mr. Jack Black
Sales executive
White enterprise
Cornwall, England
Subject: Request to transfer salary in [X] account
Dear Mr. Fraser,
Good day. I am writing to inform you that I have been working as a sales executive for 3 years at the White enterprise and am being paid £3000 per month. Due to some technical issues I have been facing recently, I have decided to close my previous account at the Lloyds bank titled 'Jack Black Henson' account number [X]. I contacted the bank to resolve the issue, but they advised me to change my account to a new one as the previous one cannot be restored. The details of my new account are given below
Account title: Jack Black
Account number: [X]
Bank Name: Standard Chartered, Cornwall, England.
I request you to please transfer my next month's salary to this new account to avoid any inconvenience. In case there is any issue regarding this transfer, please contact me at [EMAIL] so that we can arrange a meeting and discuss this. I look forward to hearing from you. Thank you for your time and consideration.
Yours sincerely,
Jack Black
Signatures.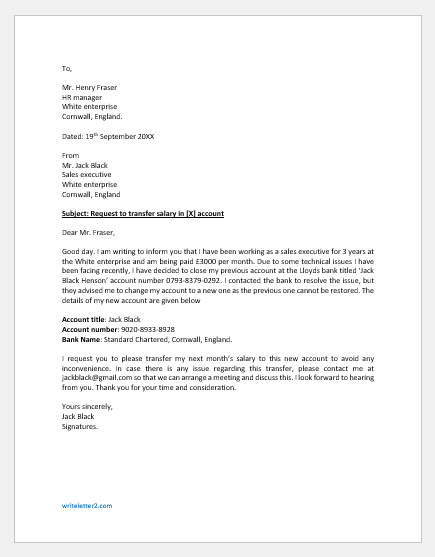 Size: 21 KB Word .doc File 2003 & later
Download
---