Legal Notice of Non-compliance of Order
Sample -1
I, Robert Morris, working as an advocate in civil courts of North California, sending you this legal notice after receiving instructions from my client, Mr. Rajesh, CEO of [ABC] industries, in response to your non-compliance with the order which was placed by him on [date]. You are hereby notified;
That my client entered into an agreement with you on [date] to establish good business relations with your company. Later, on [date], he placed an order to produce plastic pipes in bulk quantity for which he made an advance payment to your company as well.
That material was tested in the laboratory for its validity and reliability by engineers. Reports of tests showed that along with polyvinyl chloride, you have used some other material which affected the quality of the material in a bad way.
That you were informed by my client on [date] about various flaws found in the product through email but unfortunately, no reply was sent by you in response. On a number of occasions, the operator tried to contact you through a phone call but your nonavailability on every occasion made the situation more suspicious.
Since you have shown non-compliance with my client's order, therefore there is no exaggeration in saying that you are responsible for the loss which has occurred as a result of your negligence. Now, my client has full rights to recover the amount. Therefore, you are being informed through this legal notice to pay $4000 within 15 days of its issuance. If you fail to pay that amount to my client within a specified deadline, formal legal action will be initiated against you.
Name of advocate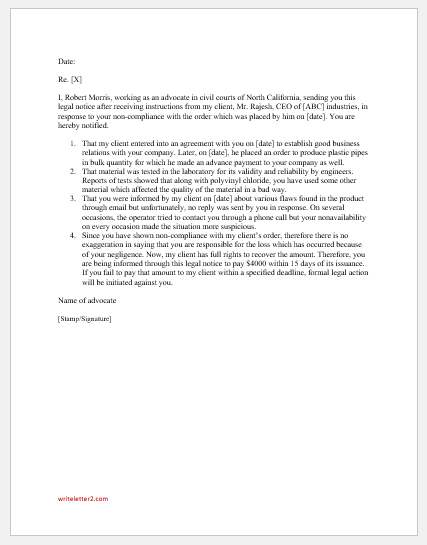 Size: 22 KB Word .doc File 2003 & later
Download
---
Sample -2
Subject: Notice of non-compliance of order [X]
Mr. Morris,
This letter must be treated as a legal notice which is being sent to you by the undersigned after receiving instructions from the client, Amit Mishra, CEO of [ABC] industries in response to your non-compliance with the order.
The client of the undersigned informed that he placed an order for the purchase of [name of goods] on [date]. The order was delivered on time and the product was also tested for its quality. Reports received after analysis from the quality testing laboratory revealed that the material used in the making of the product was not of good quality which proved that you have shown non-compliance with my client's order.
Owing to your non-compliance, my client had to bear a huge loss because of your dishonesty. Therefore, as per the terms and conditions of the contract which was signed between both of you, my client has the right to recover the amount in lieu of loss which he had to bear. You are hereby informed through this notice to pay $6000 to my client within 10 days of its issuance. Failing to comply with the instruction will result in the initiation of formal legal proceedings against you.
Name of advocate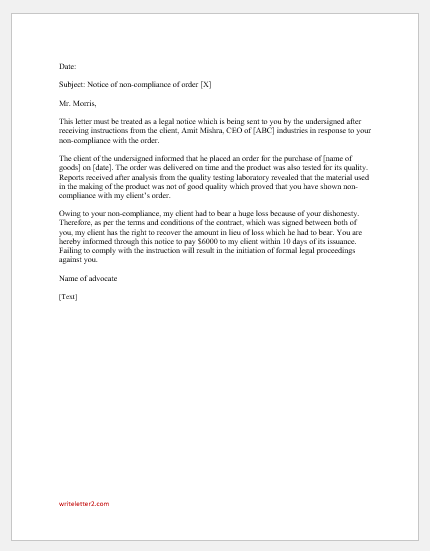 Size: 23 KB Word .doc File 2003 & later
Download