Letter to Another Manager Highlighting an Issue
1-
Re. Highlighting the Recurring events of Misconduct from QA Office

Dear Sir,
I am Suzy Rose, a Graphic Designer in Jomer Nell Groups. I am writing this letter to bring your attention to a significant issue. I have an earnest concern on the misconduct by Mr. Hill who works in the Quality Assurance Cell of your company. Being a graphic designer at my company, I was asked to contact Mr. Hill in Quality Assurance Cell for the details of the contract recently signed between the two companies.
To explain, I refer this letter to an agreement that was signed between both the parties related to the manufacturing of some of the IT products. My team is working as a vendor for you which is the major reason, I had to contact Hill a few more times. I sent him an email to inquire about the particulars of the agreement as directed to me by the HR Manager, I was replied in a harsh way and no details were shared with me.
I tried to put a halt to my anger and neglected the bad attitude. I called the person on 15th November 2020 at 12:30 PM and he hung up the call by saying that it was his break time whereas the break time starts from 1:00 PM. Today, I sent him another email in which his conduct was unacceptable and burning on both sides.
I am writing this letter to complain about his misconduct, and I want him to apologize for this misconduct. Professional attitude and a pleasant manner of talking are some key factors in the prototypes of business. I hope you understand my concerns and this attitude of Mr. Hill's would be reprimanded and meet high disapproval.
Thank you
Regards,
Suzy Rose,
Jomer Nell Groups,
Columbia, USA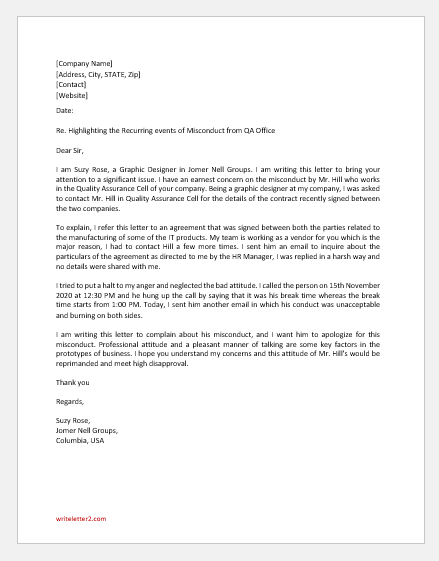 Size: 21 KB Word .doc File 2003 & later
Download
---
2-
Re. Highlighting the Issue of Receiving Damaged Products
Dear Joseph,
I am Rodrigo James, HR Manager at Edmund IT Groups. My company ordered 208 Laptops Chips and 100 joysticks, and a few screens on 2nd November 2020. This package was proposed to our company by your Contract Head Mr. Stewart on 27th October 2020 which was later approved and accepted by our Creative Director, Senior Finance Manager, Senior General Manager, and the CEO Mr. William Cuts. We showcased a good amount of credence in your services and endured your proposal even though a few times it has been felt a little expensive, but the quality has always been at number one in our priority.
Now, when the packages are here in our store and have been reviewed by our workers, it has been found that almost thirty percent of the products are spoiled, damaged, or crumbled.
As we already have paid the full price of these items, I wrote an email to your HR Manager in which I was told that your company would not take this as its responsibility. I was also suggested to get all the articles repaired at our own expense. Looking at the delivery of the spoiled and damaged products, I am writing this as an official notification to you.
Please, resolve this issue within three working days otherwise my company would take a legal stance on this issue and get it resolved by lawsuits as, according to the law, delivering the products is always the responsibility of the sender's projection. I am looking forward to your immediate rejoinder.
Thank you.
Regards,
Rodrigo James
Edmund IT Groups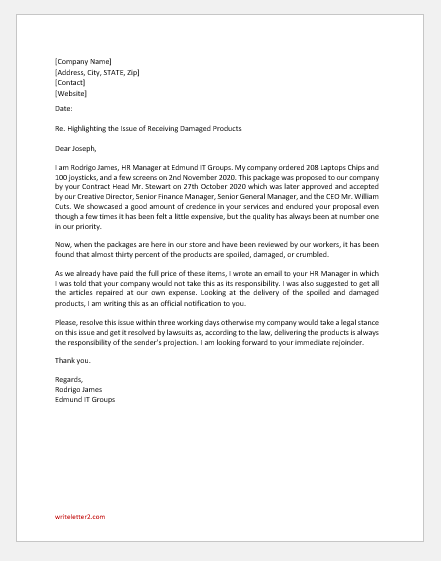 Size: 21 KB Word .doc File 2003 & later
Download