Letter to Cancel a Night Party Invitation
The trend of parties is rapidly increasing these days. Celebrations and parties give lovely memento and long lasting pleasures. In the busy life schedule, people find it a source of relaxation and enjoyment. By this way, parents and children get time to spend with each other. The invitation for such parties is always accepted whole-heartedly. Especially, the parties held by close friends or families are much considerable. The invitations to such informal parties are made much appealing. Sometimes, situations compel us to cancel the invitation even though we want to attend. These can be any sudden crucial issue like illness, natural disaster, accident or any other important engagement on the same day of the party. In such cases, the invitees need to send an apologizing letter by mentioning the reason. And for good gesture, one can give a thoughtful note for making any future gathering plan to compensate for not attending the said event.
Letter to Cancel a Night Party Invitation
Paul Samuels
Block 19B, Silver Pearl Avenue, New Kentucky.
15th May 2017
Mr. Jordan Bullock
Block 34A, Castle Avenue, New Kentucky.
Dear [Recipients Name],
I hope you are well and things are running smooth at your end. I regret to inform you that I would be unable to attend the "Graduation Night". The reason for not attending is the sudden accident of my beloved brother. He suddenly got a fracture on his right leg while coming from school. My parents are with him in the hospital since last night. And I am busy with my little sister at home. As you know that she is just 2 years old, she needs proper care. All this happened so suddenly that we are much upset. I know that we were organizing this party for two months. This was our day to celebrate the pleasure of our graduation. This was the night to have so much fun and memento. It is the day to memorize the four years of our graduation. I can imagine how much fun we would be having. I sincerely apologize once again. Please share all the videos and pictures. And please apologize to all the fellows on my behalf.
Have fun.
Yours Truly,
Paul Samuels
Download Details: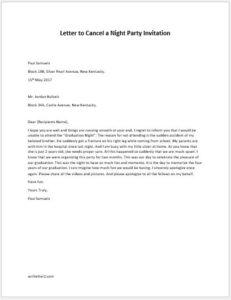 Letter to Cancel a Night Party Invitation

Size: 37 KB Word .doc File 2003 & later
Download
Mobile Version: Polaris Office & Google Docs
Size: 23 KB File
Download
[personal use only: Not for Resale & Distribution]