Complaint Letter for Spoiled Food
The most important factor that contributes to happiness is health. When we have good health, we can enjoy life to the fullest. Good health is attributed mainly to our diet. And our diet is associated with the quality and type of food we eat. The good quality of food keeps us away from major illnesses and diseases.
Nowadays, various grocers are deceiving the customers on the quality of food. They are selling rotten food by using various chemicals. One should check the expiry date before buying. And one should also check the quality before buying.
Many times, expired, rotten, or spoiled food is found after being opened. It results in dissatisfaction of the customer and then they opt for other ones. Overall, it is the basic responsibility of the groceries store to keep proper checks and balances on the quality of food they are selling. When a customer finds rotten or spoiled food, he must write a complaint letter to the store owner.
1-
I want to register my complaint regarding the food I bought from your bakery on [date]. we were going on a picnic, so we ordered some burgers and a pizza from you. When we reached the picnic spot we opened the food and we were very disappointed to find it spoiled. We had reached that spot after hiking for two hours and there was no other food available apart from the fruit we were carrying.
Since these are winters we cannot blame the weather for spoiled food. The only explanation for the food being spoilt is that it was rotten when we bought it. We are very upset as we did not expect a reputable bakery like yours to sell food past its expiry. We are very old customers and we always shop for any bakery items we need, from you. You have let us down in front of our friends who were accompanying us and we had praised you a lot in front of them.
Please look into this issue and look for the reasons behind it so that this issue does not come up again.
Looking forward to your positive response.
2-
We always get our vegetables and meat from your store as your rates and the quality of your wares is always up to the mark. We usually order our weekly groceries online. However, we had a very bad experience this weekend when we ordered our vegetables and meat from you online. When our order was delivered, we were shocked to see that the meat had gone bad and most of the vegetables were rotten.
This is the first time that this has happened. We called customer service immediately and they told us to send in a written complaint to get a refund. I am attaching the pictures of the receipt and the order we received. Please look into this matter as such incidents cause one to lose trust.
Looking forward to swift and firm action from your side.
3-
Charcoal Restaurant
Eric Landon
43 St. Red Pearl Avenue, Florida.
[Date]
Mr. Lucas Jayden
Manager
Crystal Star Supermarket
23 St. Diamond Avenue, Florida.
Dear [Recipients Name],
I am Eric Landon, owner of Charcoal Restaurant. I am writing to make a complaint about the quality of food at your supermarket. Yesterday; I purchased fruits, vegetables, and all dry items for my restaurant. The iceberg was full of insects. And same was with the raspberries and blueberries; they were fully covered with insect layers. In addition, the cream cheese and cheddar cheese were expired. I am very much dissatisfied.
My breakfast restaurant is much popular in the town. I have strong customer satisfaction in the town regarding the quality of the menu. It was my first experience at your supermarket. I found it much near to my restaurant and was deciding to become a regular customer of it. But this dissatisfaction is changing my mind. I request you to keep a superior check on your food quality. I would appreciate a refund for all these items. These all items were worth $450. And it is simply a loss if not refunded.
I thank you for your consideration.
Sincerely,
Eric Landon
The Owner, Charcoal Restaurant
Download Details: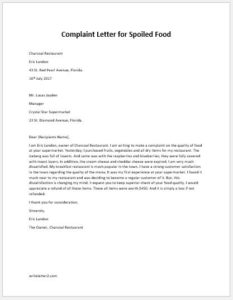 Size: 25 KB
Pdf
Size: 267 KB