Complaint Letter for Spoiled Food
The most important factor that contributes to happiness is health. When we have good health we can enjoy life to the fullest. Good health is attributed mainly to our diet. And our diet is associated with the quality and type of food we eat. The good quality of food keeps us away from major illness and diseases. Nowadays, various grocers are deceiving the customers on the quality of food. They are selling rotten food by using various chemicals. One should check the expiry date before buying. And one should also check the quality before buying. Many times the expired, rotten, or spoiled food is found after being opened. It results in dissatisfaction of the customer and then they opt for other ones. Overall, it is the basic responsibility of the groceries store to keep proper check and balance on the quality of food they are selling. When a customer finds the rotten or spoiled food, he must write a complaint letter to the store owner.
Complaint Letter for Spoiled Food
Charcoal Restaurant
Eric Landon
43 St. Red Pearl Avenue, Florida.
16th July 2017
Mr. Lucas Jayden
Manager
Crystal Star Supermarket
23 St. Diamond Avenue, Florida.
Dear [Recipients Name],
I am Eric Landon, owner of Charcoal Restaurant. I am writing to make a complaint on the quality of food at your supermarket. Yesterday; I purchased fruits, vegetables and all dry items for my restaurant. The iceberg was full of insects. And same was with the raspberries and blueberries; they were fully covered with insect layers. In addition, the cream cheese and cheddar cheese were expired. I am very much dissatisfied. My breakfast restaurant is much popular in the town. I have a strong customer satisfaction in the town regarding the quality of the menu. It was my first experience at your supermarket. I found it much near to my restaurant and was deciding to become a regular customer of it. But, this dissatisfaction is changing my mind. I request you to keep superior check of your food quality. I would appreciate a refund of all these items. These all items were worth $450. And it is simply a loss if not refunded.
I thank you for consideration.
Sincerely,
Eric Landon
The Owner, Charcoal Restaurant
Download Details: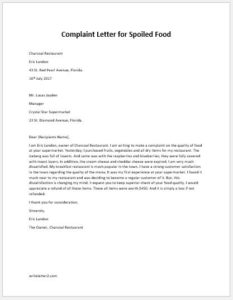 Complaint Letter for Spoiled Food

Size: 25 KB Word .doc File 2003 & later
Download
Mobile Version: Polaris Office & Google Docs
Size: 267 KB PDF File
Download
[personal use only: Not for Resale & Distribution]