Reference Letter for Renting an Apartment
A reference letter is usually written for people who are applying for jobs to confirm that they are a professional, have good morals and good work ethic. Recommendation letters usually come from people who have known you previously in a professional capacity like your employers or supervisors.
However, a letter of recommendation is not just limited to professional or academic needs, such a letter may also be required for someone looking for rental space. The person renting their space to you may ask for a recommendation letter to confirm that you really are who you are claiming to be.
When you are applying for a place for rent, a recommendation letter may help you stand out amongst other candidates and give you validation which the landlord may be looking for. At the end of the day, someone is letting you stay at their property for rent and they want to make sure that they are giving out their space to someone who is trustworthy. Therefore, a good letter of recommendation can go a long way in getting you the apartment that you need.
A reference letter for renting an apartment is a professional document like any other reference or recommendation letter. Therefore, make sure you proofread it to rectify any grammatical or syntax errors before you hand it to your potential landlord. Choose the person for your reference letter after careful consideration. It should be someone who knows you in a personal capacity and can vouch for your character. It can be a good acquaintance, an employer, or a colleague but it should be someone who will write good things about you as you cannot afford to have a bad image of yourself project to your landlord.
Points to consider before writing a reference letter for renting an apartment.
Make sure that the referee does not overtly praise you and make you seem like someone you are not. Ask him to keep the letter short, precise and to the point. Write only things that relevant to the purpose of the letter. No need to go into unnecessary details.
Double check the letter for any mistakes. Grammatical errors or spelling mistakes give a bad impression of you and the referee himself.
Avoid any lies or misinformation. Avoid exaggerating about your great qualities and only identify the key qualities relevant to this position.
Make sure that there is nothing on the letter that might be in contradiction to what you have written in your application to the landlord. It may cause a misunderstanding and result in you not getting the apartment.
Sample Letter
Mr. Peter John
Manager White Enterprise,
[EMAIL]
Stock field, Birmingham, England
Subject: Reference letter for Ms. Hayley Jordan
Dear landlord,
It is my pleasure to introduce Ms. Hayley to you as a potential tenant. I am a manager at the White enterprise where I have been working for the past five years. I have known Ms. Hayley since January 20XX. She has worked as a trainee manager with us and has shown dedication and motivation at work. She is a very responsible young lady and was always on time to work. Ms. Hayley was also awarded employee of the month for December 2019 based on her dedication and consistency at work.
Ms. Hayley is trustworthy and honest, and she was given charge of the company documents as well based on her reliability as an employee. She has always been very respectful towards her colleagues and supervisor, and everyone held her in high regard. I can recommend her as a potential candidate with confidence and I am sure she will prove to be a responsible tenant and will pay her rent on time.
Please feel free to contact me at [EMAIL] in case any more information is needed. Thank you very much.
Regards,
Peter John
Signature.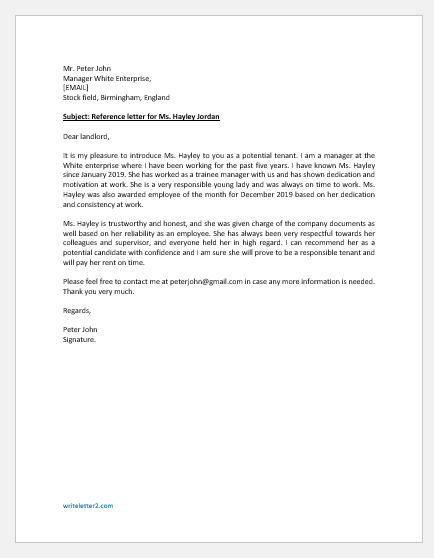 Size: 21 KB Word .doc File 2003 & later
Download
---