Letter to Change Order of Wedding Cards due to Date Change
Plans don't always become a reality. Sometimes, due to some unexpected happening, planned projects have to be canceled and new strategies should be made according to the need of the circumstances. Particularly in the case of marriages, it happens sometimes that the marriages are either postponed or canceled due to some sad or unexpected incidents. Since marriage is a happy event, one wants the attention of everybody with a happy face so that the event can be enjoyed to the fullest. When the circumstances do not allow a joyful gathering, the event is postponed for a later better time. With such decisions, other matters also need to be tackled accordingly. The cancellation or change in the orders of wedding cards is among one such urgent ''to do' things'.
Letter to Change Order of Wedding Cards due to Date Change
[Your Name]
[Address]
[Letter Date]
[Recipient's Name]
[Address]
[Subject: Subject of Letter] -Optional-
Dear [Recipient's name]
I had placed an order of 500 cards for a wedding ceremony. The order was to be delivered within two weeks. I'm writing to you just after three days of placing the order that I want to change the order details. Due to some unexpected circumstances, the wedding cannot take place on the date provided to you to mention on the cards. We are postponing the wedding ceremony for now. You are requested to hold my order. I shall inform you of the new dates in the coming week. The rest of the order should be kept the same. I only want to change the date the details of which will be given to you soon. Thank you for your services.
Sincerely,
[Your Name]
[Your Title] -Optional-
Download Details: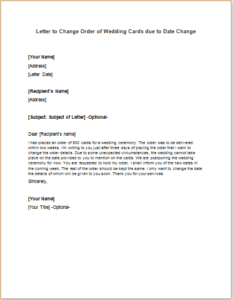 Letter to Change Order of Wedding Cards due to Date Change

Size: 25 KB Word .doc File 2003 & later
Download
Size: 161 KB PDF File
Download
[personal use only: Not for Resale & Distribution]