Letter to Claim Insurance Due to a House Robbery
Taking an insurance policy is easy, claiming insurance is not. People often face situations in which even a valid claim is not granted. The reason behind is not always a dishonest insurer. Sometimes it is because people fail to make claims properly. For a claim due to house robbery, one needs to be quick after the incident takes place. A police report should be filed since the insurance company requires the police report to ensure that the theft actually took place. The company should be notified of the robbery so that their agents may come and inspect the place. The list of the things that were stolen and the receipts or bills of the things for which the claim is to be made are also among the proof documents that are necessarily required in such cases.
This letter can be used to claim insurance due to house robbery.
Letter to Claim Insurance Due to a House Robbery
[Your Name]
[Address]
[Letter Date]
[Recipient's Name]
[Address]
[Subject: Subject of Letter] -Optional-
Dear [Recipient's name]
As your agent visited my house yesterday after the incident of robbery and did the necessary inspection, I am now writing to you to claim my insurance. As per the insurance policy, in the case of theft or robbery, the company is due to reimburse me 100%. I have attached all the necessary documents along with this claim form and thereby claiming my insurance. Kindly inform me in any other proof documents are required and I will dispatch them as soon as possible. I hope that the settlement will be made within this month. Thank you!
Sincerely,
[Your Name]
[Your Title] -Optional-
Download Details: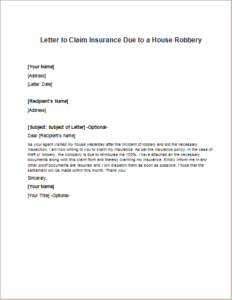 Letter to Claim Insurance Due to a House Robbery
Size: 25 KB Word .doc File 2003 & later
Download
Size: 158 KB PDF File
Download
[personal use only: Not for Resale & Distribution]