Letter to Younger Brother to do Good in Studies
Human nature involves two main factors to reform him and lead to a successful life. One is fear of failure and other is motivation to achieve some target. These both factors play very important role in the life of a person and develop the positive or negative attitude of the person towards life. Fear of failure ultimately raises the motivation level. But every human has a different attitude or different level towards both above-mentioned factors. Therefore, the wake-up call for these two factors is mandatory sometimes. Especially, this call is very necessary in the case of studies of our younger brothers/ sisters because as a teenager they do not have enough knowledge of benefits of studies so we need to encourage them and tell them the importance of studies on regular intervals. When we stop asking them, they also develop a careless attitude. But when we use to tell them and guide them about studies, they also develop a positive attitude.
Letter to Younger Brother to do Good in Studies
Ben Wordsworth
12 St. Blue Moon Avenue, California.
10th July 2017
Mr. Charles Wordsworth
Malcolm College
19 St, Diamond Avenue, New York.
Dear [Recipients Name],
Hope you are enjoying your college life. I heard the news about your result in part one of intermediate exams but unfortunately, the result was not the same as it was expected from you. As an elder brother, this is my responsibility to guide you as per my experience. Gentleman, this world is very cruel and there is no free lunch available here. You won't find your best friends around you in future until the time you would not stable financially or hold any position in life. You cannot prosper in life and hold a high designation till you would be extraordinary in studies. Just passing with low grade does not serve the purpose of the study. Therefore, my brother, you need to work hard to get a high grade in the examination and you have to keep the name of our family high. We all have a lot of expectations from you.
Looking forward to your positive response in future.
Sincerely,
Ben Wordsworth
Download Details: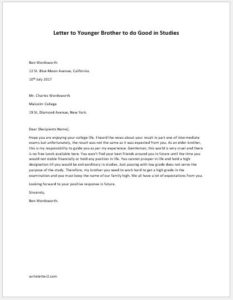 Letter to Younger Brother to do Good in Studies

Size: 31 KB Word .doc File 2003 & later
Download
Mobile Version: Polaris Office & Google Docs
Size: 22 KB File
Download
[personal use only: Not for Resale & Distribution]