Letter to Refer Someone for an Administrative Position
There are many reasons for which an employee has to leave an organization such as health issues, graduation, family needs, and also for the better opportunities. The employee who has a great value in the company due to his work can be given a reference letter which can help him get the next job. It is important to give all the details of the company in which the prospective employee had been working and also his job title and responsibilities. You can also mention his achievements which he has made during his job role.
The tone of the letter should be positive. In the letter, it can be stated that how a person for whom the reference letter is being written, worked for the administrative purposes. The basic skills of a person regarding the administrative responsibilities should also be mentioned in the letter. The letter can be ended with the expectation that your recommendation will be considered.
LETTER
Dear [Recipient's Name],
This is a reference letter for [Mr. ABC]. [Mr. ABC] has been working as an administrator in our company for past five years. The title does not completely describe the skill level of our employee. He has the abilities to work with cooperation and he also faced many challenges with strength. He/She assisted not only the juniors but also the top management of the company. I hope that you will consider my reference and will try to get benefit from this multi-talented personality. You can contact if you want to have further information related to the person.
Sincerely,
[Your Name]
[Senders Title] -Optional-
Download Details: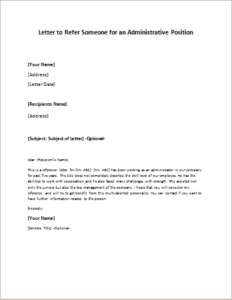 Letter to Refer Someone for an Administrative Position
Size: 25 KB Word .doc File 2003 & later
Download
Size: 196 KB PDF File
Download
[personal use only: Not for Resale & Distribution]