Letter to Refer Someone for an Administrative Position
There are many reasons for which an employee has to leave an organization such as health issues, graduation, family needs, and also for better opportunities. The employee who has great value in the company due to his work can be given a reference letter which can help him get the next job.
It is important to give all the details of the company in which the prospective employee had been working and also his job title and responsibilities. You can also mention the achievements which he has made during his job role.
The tone of the letter should be positive. In the letter, it can be stated how the person for whom the reference letter is being written, worked for administrative purposes. The basic skills of a person regarding administrative responsibilities should also be mentioned in the letter. The letter can be ended with the expectation that your recommendation will be considered.
Sample Letter #1
This is a reference letter for [Mr. ABC]. [Mr. ABC] has been working as an administrator in our company for the past five years. The title does not completely describe the skill level of our employees. He has the ability to work with cooperation and he also faced many challenges with strength.
S/he assisted not only the juniors but also the top management of the company. I hope that you will consider my reference and will try to get benefit from this multi-talented personality. You can contact me if you want to have further information related to the person.
#2
TO WHOM IT MAY CONCERN
I am happy to be requested to provide a reference letter for a brilliant and outstanding individual, Mr. Simpson. My direct contact with him took place in 2018 when I hired him as an accounts assistant. He has been working under my direct supervision for the last eight years and I am not feeling any hesitation while referring him to you.
While working with us, Simpson was responsible for the maintenance of all company accounts. Most impressive thing is that he was dealing with 42 different company offices to run all the affairs smoothly.
He was punctual and willing to accept challenges. In addition, he has an exceptional ability to identify problems and formulate workable solutions. By means of this ability, he helped us complete all the projects as per schedule. He used to interact with our clients in a pleasant manner which is why he took huge advantage of his pleasant personality over his competitors.
I will always remember him because of his intelligence and decision-making power. He gave his unique, innovative, and workable ideas and helped the company save thousands of dollars on several occasions.
Moreover, he took an active part in company meetings and always coined useful ideas to formulate good policies. Because of his countless abilities and contributions, I strongly recommend him to you. I am sure he will work more than your expectations and prove himself a useful addition to your staff.
I am sad on seeing him leave my company but at the same time, I am sure that he is pursuing a more challenging opportunity that suits him best. Moreover, I understand his problem to relocate his family. I have no reservations about him.
Please feel free to contact me if you want to ask anything about him.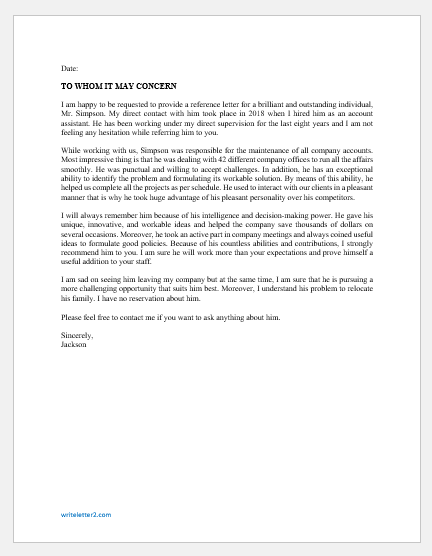 #3
TO WHOM IT MAY CONCERN
I seldom write a reference letter without reservations, but I am doing so in the case of Mr. Lee who has applied for the post of administrative assistant and about whom I have been asked to provide a reference letter. I am pleased to give my strong recommendations about such a brilliant employee who never gave me any chance to complain.
He has been working for the last three years as an accounts assistant under my direct supervision. However, his degree is in administration, and he expressed his desire to transfer to an administrative position. I have no administrative position in my company otherwise I would not have let him go. I support his decision to seek such a position that is exactly in accordance with his qualification and interest.
He has been blessed with exceptional time management skills. He can handle multi-tasks and performs best under unfavorable conditions which is considered his best quality. He has also been an impressive designer for my company. He used his creative skills in designing appealing presentations and writing effective proposals. It helped us attract many clients.
Having earned a professional in administration, I believe Lee will prove himself a great asset to your company. With his pleasant personality and friendly behavior, he will bring in a lot of new customers and help you achieve monthly and annual targets.
Although I am sad that losing such a great asset, I do not want to create any hurdle in his way of professional development. That is why I am strongly recommending him for an administrative position in your company. I am sure you will be pleased with his professional working style. If you want to discuss anything more about Lee, do not hesitate to contact me.
I wish him all the best of luck with his move.