Hospital Late Attendance Explanation Letter
Sample Letter -1
Subject: Hospital late attendance explanation letter

Dear James,
This document serves as a formal letter asking an explanation for your unprofessional attitude in the hospital. Time management is a hallmark of professional employees. They take great care of their time and they manage it on a priority basis. Despite all difficulties, I have found many employees around me who arrive at the hospital well before their duty time starts and this habit reflects professionalism in them. When it comes to you, things become totally opposite in your case. As reported by the HR department of our hospital, you have been arriving very late at the hospital for your duty. They said that your duty starts at 9 a.m. but you arrive at 9:30 or sometimes even later than this.
On the 15th of August 20XX, you attended a meeting with the higher management of the hospital including MS. In that meeting you were informed about the actual problem hospital was suffering from your late arrival at duty. You were also advised and directed to bring a positive change in your attitude. In addition, a warning letter was also issued to you at that time. On the very next day, you were also provided with a booklet containing a lot of suggestions about the performance improvement of employees.
Further, during the very next week on the 21st of August 20xx, you again attended a meeting with the same hospital management and there you were informed that you have not been able to improve your behavior, and then you were issued a second warning letter.
Owing to your repeated violations of hospital disciplinary policies and rules, I hereby ask you to write an explanation letter in which you have to explain your position and that why disciplinary action should not be taken against you. If you fail to submit your answer through an explanation letter within 48 hours, you will be liable to strict disciplinary action as per the existing laws of the hospital.
Yours Sincerely,
[XYZ]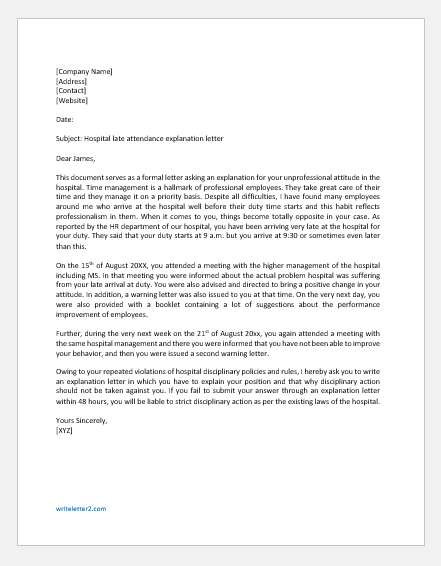 Size: 21 KB Word .doc File 2003 & later
Download
---
Sample Letter -2
Subject: Hospital late attendance explanation letter
Dear Kerry,
Being punctual and efficient at the same time are the traits that are not found in every individual around us. The professionalism in an employee can be reflected through these traits and also these are considered to be present in employees of any organization for the sake of smooth functioning. Since last month, I have been observing that the biometric attendance machine shows your presence after 30 to 40 minutes when your duty starts which is a clear indication of the fact that you are in a habit of coming late in the hospital which is not good at all.
Mr. Kerry, you know that hospital is a place where an emergency case can come at any time and latecomers disturb the smooth functioning of a hospital. Not only me but the head of the HR department also noticed this irregularity in your attendance. Consequently, he talked with me about you and directed me to issue an explanation letter. You have to satisfy us with your answer that why attendance had been marked late.
Moreover, from now onward this is to be kept in mind that three late attendances in a single month will be considered as a full day absent and salary for such will also be deducted. So, keep in mind the deadline of 48 hours during which you have to submit your answer. In case of non-compliance with instructions, severe disciplinary action will be initiated against you.
Yours sincerely,
[XYZ]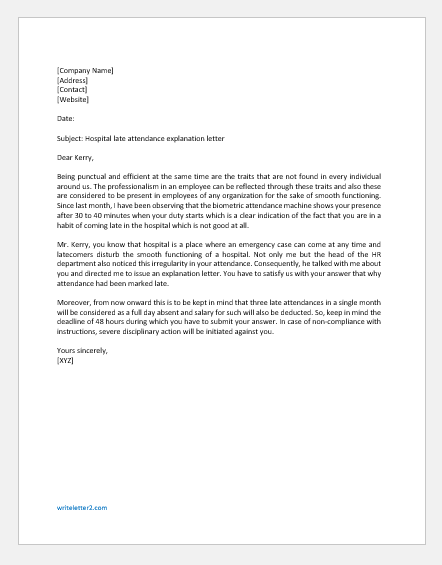 Size: 22 KB Word .doc File 2003 & later
Download