Complaint Letter about Food Poisoning to a Restaurant Manager
Refreshment of the mind is a very important element to relax the mind. Different people have the different approach for relaxation. For example, some people relax their mind with exercise, some people love hiking, watching movies, get to gather with friends, and playing games, sports or outing at a picnic point. But the most common is the plan of a dinner or eating food at their favorite place. After a hectic working routine and eating a common menu throughout the week, it invigorates the mind but this habit is causing a serious medical issue. Because, we never know the cooking material used to make the food is up to the required standard or not, chefs are fulfilling the cleaning requirements of food pots, cooking area or self-cleanliness. This is the reason; it can cause food poisoning sometimes. Although, there are standard operating procedures for each restaurant to avoid such health issue but cent percent assurance cannot be obtained or believed. Therefore, it is recommended to have a dinner plan at a renowned restaurant and if the problem still arises then you can complain about it verbally or in writing.
Complaint Letter about Food Poisoning to a Restaurant Manager
Charlie McDonalds
Block 23B, Alexander Avenue, California.
7th October 2017
Mr. Peter Simpson
Manager
Ocean Grill & BBQ Restaurant
27 St. Hill Top Avenue, California.
Dear [Recipients Name],
Hope you doing well. I have a complaint about your restaurant regarding food. I had a dinner last night with my family friends and all of us are facing the problem of food poisoning. This is happening second time within a month and I had also complaint about it verbally. But this time, I am feeling prudent to write a complaint letter to you to understand the gravity of the matter. Although, it is a renowned restaurant and it has a cool and clean environment but the kitchen standards and quality of food need to be verified on the earliest. Secondly, chefs and workers involve in food making or items handling need to be checked whether they are fulfilling the requirement of self-cleanliness or not. I hope you would focus on highlighted area to avoid such problems in future.
Sincerely,
Charlie McDonalds
Download Details: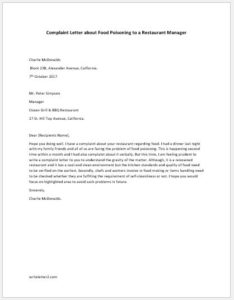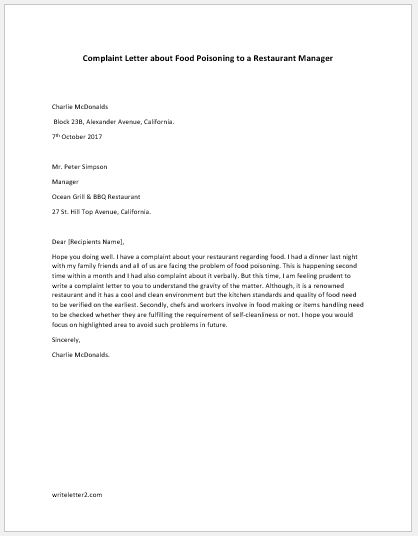 Complaint Letter about Food Poisoning to a Restaurant Manager

Size: 28 KB Word .doc File 2003 & later
Download
Mobile Version: Polaris Office & Google Docs
Size: 22 KB File
Download
[personal use only: Not for Resale & Distribution]