Undertaking Letter on Company's Assets Received
Re. The undertaking of the Company's Assets
Dear Mellow,
I am penning this letter to undertake that I have received the items mentioned below. I am Relenza Duck from Newt Street California and I am freshly appointed to the designation of the Assistant Registrar in Melbourne Group of Insurance. I hereby undertake that I have been given these items only to facilitate me as an employee and they do not belong to my ownership. These items have been granted to me in the designation of my appointment as an Assistant Registrar and given into my possession.
I moreover undertake that I am liable to pay any kind of legal remedy in case of loss, damage, or misuse of these items. I undertake that the following items have been brought into consideration in my designation. These items are:
An HP Laptop (Gen V, i5) along with its charger
A Samsung Phone (Model s8) along with its charger
A sim card in the company's name
Parking Card
Employee ID Card
Fourteen Files on previous records
Swot analysis of the company (2011-2020)
Keys to the drawers and warehouse cabinets
Employee Medical Card
I undertake the possession of all of the above-mentioned articles and proclaim that they are given to me in good condition and completely functioned. Everything on the list is fine in its condition and functionality. During my possession, the responsibility to refurbish, mend, or update is on my shoulders and I am not legally subjected to claim the payment or amount used to update or retune them.
I am thankful for this to the management and Additional Registrar for this and promise to take good care of the company's assets. My personal bio and application form for the aforementioned items has been enclosed in this letter.
Thank you
Sincerely,
Relenza Duck
JM-435, 2434 Newt Street California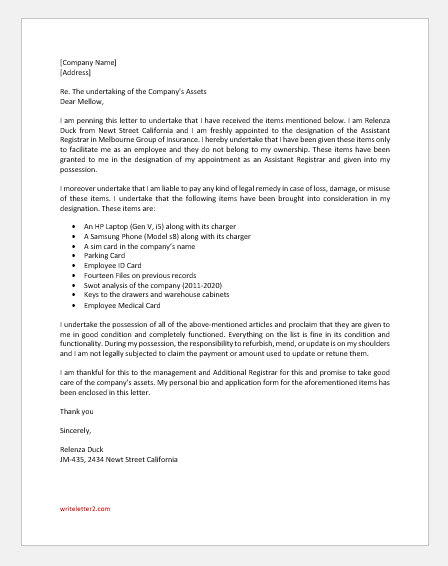 Letter Undertaking the Company's Property by Employee
Re. The undertaking of the Company's Property Received
Sir,
I am Joseph Lake from Nelson Main Street. I received my joining letter yesterday and according to the instructions received by Assistant Manager; I joined the Kips Noro company as an Assistant Finance Manager today i.e. on 23rd September 2020. All of my credentials are written in my earlier submitted employee form.
I hereby intend to write this letter to confirm that I have received certain articles from the company as the company's property. These articles do belong to the company's ownership while coming into my possession. These articles include the following:
A black HP laptop 57-Spectre model 15
A black Samsung mobile S8 with a sim card numbered as [X]
Five files related to the last year's finance management
Finance software of the company, its password, and content as disposition
Company's card
Company's credit/debit card number [X]
Company's parking card
I accept the possession of all the above-mentioned articles and its responsibility for maintenance and careful usage. I gladly accept this possession that has been given to me in the disposition of my designation and facilitation.
I also confirm to say that I shall be responsible for any kind of damage or loss of the aforementioned articles that I have received in fine condition. These articles are revocable after the end/termination of my job.
I also agree with all terms and conditions enclosed in this letter in the wake of these articles as the company's property.
Thank you
Sincerely,
Signature