Letter to Complain about a Surgery not being covered by Insurance
Disputes between the insurer and policyholders are something very commonly heard. The most common among them is when the company reimburses and the policyholder does not find the reimbursement satisfactory. This could happen because of a mistake on the part of the company or the policyholder might have failed to understand the actual clauses and conditions of the policy etc. Nonetheless, it is the due right of the policyholder to submit a complaint if he is not satisfied with what he is reimbursed.
Letter to Complain about a Surgery not being Covered by Insurance
[Your Name]
[Address]
[Letter Date]
[Recipient's Name]
[Address]
[Subject: Subject of Letter] -Optional-
Dear [Recipient's name]
I am writing to you regarding my health insurance with you the policy number of which is #123456. After an accident last month, I had claimed for insurance. The accident was severe and I remained to admit in the hospital for almost three weeks. Since my legs were badly hurt and some metallic pieces went into some parts of my body during the accident I also had to go through a surgery of my legs for that purpose. All the essential documents and details were provided when I made the insurance claim. The mention of surgery and its expenses was also made clear. I received the settlement letter yesterday and I am astonished to see that the expenses of surgery are not included in the letter. I am uncertain if this is done mistakenly or according to some policy. As far as I know, my policy says that the company is responsible for reimbursing 100% in case a health issue arises. Since no exceptions were mentioned in the policy, I thereby, am complaining to you regarding this injustice. I expect 100% reimbursement and therefore, request you to contact me at the earliest to resolve this dissatisfaction. I am otherwise thinking to cancel my insurance with you.  Thanks!
Sincerely,
[Your Name]
[Your Title] -Optional-
Download Details: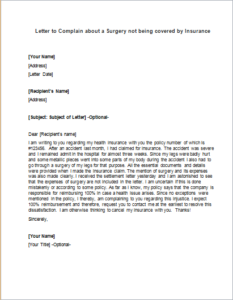 Letter to Complain about a Surgery not being covered by Insurance
Size: 25 KB Word .doc File 2003 & later
Download
Size: 167 KB PDF File
Download
[personal use only: Not for Resale & Distribution]