Illegal Construction Complaint Letter
Construction of buildings, roads, schools, restaurants, hotels, bridges, shopping malls etc takes place everywhere every time. The key to successful construction is their management. Management is always good with experience. And education is also an important factor. The construction manager has many responsibilities. He has to look over the workers each and every time. His job is much stressful and hectic. He serves as a mediator between the owner and his workers. In addition, he has to manage the cost and budget allocation effectively. The construction site matters a lot on being legal or not. When the construction of some site has to start the construction manager should check the legality from the owner.
In the case of being illegal, the construction manager is also considered guilty along with the owner. Rules and laws are strict in this regard. And illegal construction results in demolishing of the building etc. In the case of any building or road etc constructed illegal, a complaint is sent to the mayor of the area to take necessary actions.
Illegal Construction Complaint Letter
Millcreek Mall
Richard H. Thompson
13 St. Park View Avenue, Oklahoma.
9th July 2017
Mr. Warren Foster
Police Commissioner
EVT Central Office
10 Grand Street, Diamond Avenue, Oklahoma.
Dear [Recipients Name],
I am Richard H. Thompson. I wanted to inform that I have just noticed illegal construction in the parking area of my shopping mall. The parking area for my shopping mall is under my custody. I have all the legal documents with me. The parking area of my shopping mall is a big plot adjacent to the shopping mall. As my shopping mall also has a supermarket within, so I recently bought this plot 3 months ago to facilitate the people visiting both the mall and supermarket. I have tried a lot to contact the group who is doing the illegal construction but I am unable to trace and contact them. Please consider my case and take necessary actions. I am much worried about the situation. My contact number is (3200-546-7876. Please feel free to contact and inquire about any details of my property.
I keenly look forward to resolving my issue.
Sincerely,
Richard H.Thompson.
The Owner, Millcreek Mall.
Download Details: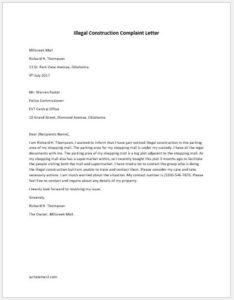 Illegal Construction Complaint Letter

Size: 39 KB Word .doc File 2003 & later
Download
Mobile Version: Polaris Office & Google Docs
Size: 25 KB File
Download
[personal use only: Not for Resale & Distribution]