Letter to Congratulate Someone for Winning as Chairperson
In the letter written to congratulate the person for winning as chairperson, the high officials are congratulated. Try to elaborate your agenda in the letter and also mention all your expectations which you have from a person who is going to take charge as a chairperson in a company. The letter should fully congratulate. You can mention the big achievements of the person and can admire him, however; the main focus of the letter should be on congratulating the official. Put all the ideas and views before the official and also tell that you want your ideas to be implemented by them. Also, tell in the letter that you are also ready to provide your services that will help them in implementing those ideas. End the letter with the warm wishes and the expectations. The tone of the letter should be positive and state that you are happy with this news.
LETTER
Dear [Recipient's Name],
I am very happy to hear that you have been selected as the chairperson in [ABC organization]. You have done a great work and you are a very talented person. You have got the work done successfully whenever you are involved in it. I want to say well done for your work and I must say that you deserve this appointment.
I am looking forward to having a great leadership from your side. I hope that you will continue all the projects as a chairperson of the company and the company will prosper under your leadership. Wish you best of luck for your new appointment.
Sincerely,
[Your  Name]
[Senders Title] -Optional-
Download Details: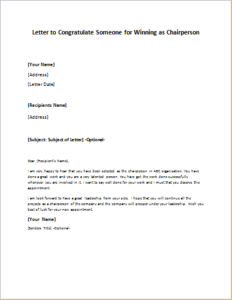 Letter to Congratulate Someone for Winning as Chairperson
Size: 25 KB Word .doc File 2003 & later
Download
Size: 196 KB PDF File
Download
[personal use only: Not for Resale & Distribution]