Letter to Congratulate Someone for Winning as Chairperson
In the letter written to congratulate the person for winning as chairperson, the high officials are congratulated. Try to elaborate your agenda in the letter and also mention all your expectations which you have from a person who is going to take charge as a chairperson in a company.
The letter should fully congratulate. You can mention the big achievements of the person and can admire him, however; the main focus of the letter should be on congratulating the official. Put all the ideas and views before the official and also tell that you want your ideas to be implemented by them.
Also, tell in the letter that you are also ready to provide your services that will help them in implementing those ideas. End the letter with warm wishes and expectations. The tone of the letter should be positive and state that you are happy with this news.
Sample Letter #1
I am very happy to hear that you have been selected as the chairperson of [ABC organization]. You have done great work and you are a very talented person. You have got the work done successfully whenever you are involved in it. I want to say well done for your work and I must say that you deserve this appointment.
I am looking forward to having great leadership from your side. I hope that you will continue all the projects as a chairperson of the company and that the company will prosper under your leadership. Wish you the best of luck with your new appointment.
#2
Earlier in the morning, we heard the great news that you have won the seat of chairperson in recent elections. Accept our heartiest congratulations on this happy occasion. We were thrilled and want to let you know that we are more than happy about your appointment.
Your opponent was formidable but you ran a clear campaign against him. Fortunately, your work didn't go unnoticed here and the community was impressed by the sincere efforts you made on their behalf. Your appointment is a clear acknowledgment of your sincere services.
Your victory has delighted us and given us a new hope that our future is secured now. It was a much-deserved win because we waited for a sincere chairperson to come for a long time. Now, our faith in the system is renewed because the right person has won this key post.
We examined your record and realized that you have been raising your voice against anti-employee thoughts of management, which was the main reason for our support. Your real responsibility has started now and we are hopeful that you will do something in this regard.
We urge you to work for amendments in legislation to protect our rights. You have gained our support and confidence and we will continue supporting you through thick and thin.
You are hereby assured that we will continue our sincere support as long as you advocate the basic employee rights including increments in pay, annual leaves, perks, leave rights, etc. The said rights have long been neglected and your success has given us some hope for these overdue changes.
We are looking forward to hearing about a lot more of your successes.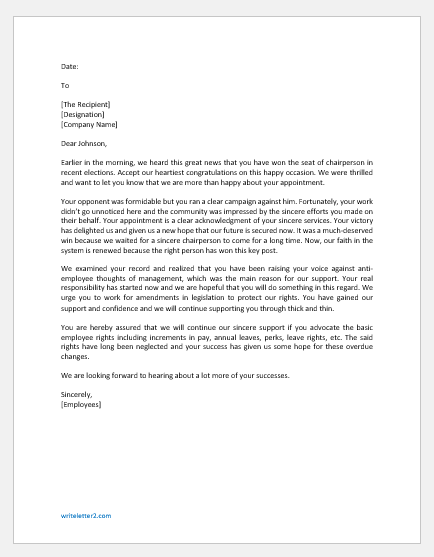 Download
---
3-
Congratulations! I am writing this letter on behalf of all employees of Stars Marketing Company. Accept our warm welcome as our new chairperson. We have been following your career for many years. You always impressed us with your bright vision and the sincere efforts you made for the welfare of employees.
You volunteered your time, and efforts and expressed your opinion without any hesitation which is a clear indication of your sincerity.
All employees are happy to see the right person taking this key post. Your victory was awaited because we were annoyed with the anti-employee policies of the ex-chairperson. Your success is a living example of the fact that the most impressive things happen to those who work hard to achieve these.
You have been blessed with the potential which is required to lead our team. Moreover, we will continue our support as long as you raise your voice and do something for our common cause.
The legislative committee is working on some amendments to legislation, and you can play your part in this regard. It is an excellent opportunity for you to earn our trust and confidence.
You know that a cooperative agreement was signed three months ago between the ex-chairperson and the representative of the employees union. We are hopeful you will ensure its proper implementation. We also ensure positive cooperation between management and employees.
To ensure the implementation of the cooperative agreement, representatives of the employee union want to meet you in the conference hall. There we can discuss major issues being faced by employees.
We hereby take this opportunity to invite you to address the annual session of the employees union on [date]. Your presence will be greatly appreciated and it will help strengthen all the ties between management and employees.
We wish you great success during your tenure as chairperson.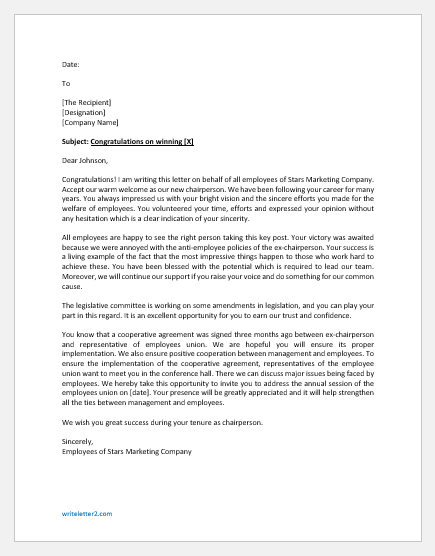 Download