Thank You Letter to Church
The human society is decorated with different religions. All religions have different concepts of worship or prayer and believe about the Lord. However, there are common concepts of reforming human being that is to raise the moral and social responsibilities. The human society cannot bring these values into the practice till the time religious involvement is not present.
In other words, religious involvement can make it easy for society to follow the nature's rules to live a successful personal life as well as help to develop a morally strong society to prosper as compare to other societies or religions. In the view above, prayer places like Church, Mosques, and Temples are the places where one can find the syllabus to reform himself for all above mention traits. Therefore, frequent visits or special arrangements to these places can help society to take part in developing the environment with their combined efforts.
Moreover, if one can feel any positive change in the individual level or collectively then it should be regarded as well. These rewards may be financial help for construction, arranging frequent gathering or a small letter of thanks for reforms.
Thank You Letter to Church
Charlie Burnham
23 St. Shining Star Avenue, New Hampshire.
17th July 2017
Mr. Burns Bunker
Trinity Church
24 St, Race Course Avenue, New Hampshire.
Dear [Recipients Name],
On behalf of Presentation Convent School, I would like to offer my special thanks to your church for arranging such a fruitful lecture and special prayers. The way of preaching your church is offering to the congregation is the need of an hour. It was covering all aspects of life whether we are students or living a professional life. In my opinion, the frequent arrangement of such gatherings would be more beneficiary for students of our school as well as it would be equally helpful for all teachers and staff. l thanks you again for your dedication and love for our school. May you always serve the humanity in the same way and may your congregation flourish gradually.
Looking forward to your help in future.
Sincerely,
Charlie Burnham
Download Details: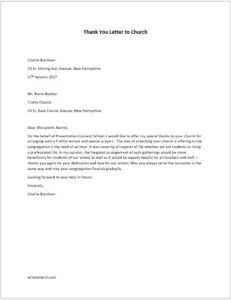 Thank You Letter to Church
Size: 27 KB Word .doc File 2003 & later
Download
Mobile Version: Polaris Office & Google Docs
Size: 21 KB File
Download
[personal use only: Not for Resale & Distribution]