Disagreement Letter regarding mistaken Bill
You could be billed twice or thrice, billed half or could totally be left untouched by the billing authority even when there were dues to be paid by you. These all are mistakes since to err is human. Disagreement regarding billing can either be made face to face or by sending a letter of disagreement to the relevant authorities. In order to write a proper letter of this genre, it is important that
The matter in detail is discussed in the letter
Explain how and why you disagree with the billing
Attach relevant documents if necessary i.e. past bills etc.
Suggest a solution/compensation
1-
I placed an order of 70 plates, 50 paper cups, and some other party supplies for my son's birthday on 25th December 20XX. I am writing this letter to bring to your attention that you have overcharged me for this service. Your representative at the Beverly Hills branch told me that the plates and cups are sold at a rate of one dollar each.
However, I was charged 145 dollars for them which as you can see yourself, does not add up. In addition, I was also overcharged for other party supplies which were supposed to be priced at 70 dollars in total, but my bill was 100 dollars. This is quite irresponsible and unprofessional on your part as you are misinforming the price of your services to your customers. If I was aware that your services are so expensive, I would not have availed them in the first place.
I hope your company compensates these extra charges and that the extra money is returned to me. Also, I hope you realize how important it is to stick to your commitments as your brand's reputation depends on it directly. Misleading your clients to availing services that are super expensive is also not a good strategy.
I am expecting a prompt response from your side and an explanation of how this error of a mistaken bill might have happened on your end.
Regards,
Sierra Colbert.
2-
Dear Mr. Conan White,
I am Karen Sky, a resident of 85 Dorian Road, CA. I am writing to inform you of a recent case of the mistaken monthly bill from your company. I have been availing of your cable service since January 20XX and have been getting my bill in the mail regularly and on time.
For the month of November though, my bill was delayed by a few days. I contacted your company and they sent me a bill the same day but not only was it 10 USD more than what I usually pay monthly, but the due date mentioned on it had passed too. The due date was 15th December, but I received the bill on 17th December.
Your representative called to inform me that the bill got lost in the mail and they had to re-make it and send it to me which took a few days, which resulted in the due date being passed. He also informed me that I have to pay the late fine which is 20 dollars, as I should have informed the company about the lost bill earlier.
Please know that it wasn't my fault that the bill got lost and I will certainly not pay a late fine as it's not justifiable. I have availed of your service for many months now and have always paid my bills on time.
I request you to please look into this matter at your earliest and resolve it. I look forward to your prompt response in this regard.
Yours sincerely,
Karen Sky.
Size: 14 KB Word .doc File 2003 & later
3-
Dear [Recipient's name]
Since your company is an internet service provider (ISP), I have been taking your services for the last 5 years. The service has overall remained excellent and therefore I have no complaint to make regarding that.
However, there is something that I have to take into your account about my last bill. I have received a bill of [X]$ because the package mentioned on the bill is off [4 MB] while I am on a package of [2MB]. With this 4MB Bill, I shall have to pay double what I pay usually.
I am uncertain why my package was changed without notifying me. Because the action was taken without taking my agreement, I disagree to pay this bill for 4MB and will only pay for 2MB.
You are requested to change my package back to 2MB if it has been switched to 4MB and also fix the errors in the billing records. I shall be grateful to you for this. Thank you!
Download Details: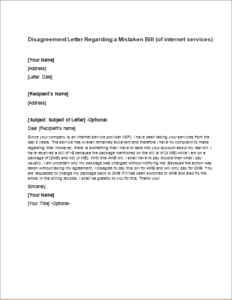 Disagreement Letter Regarding a Mistaken Bill
Size: 25 KB Word .doc File 2003 & later
Download
Size: 235 KB PDF File
Download