Complaint Letter for Health Insurance Services
Health is attributed to sound and fit body which is free from all kind of disorders. And hygiene refers to those measures that prevent illness and diseases. Health and hygiene together give a peaceful happy life free from all worries. When proper care of health is taken, everything seems joyous. And ill-health leads to frustration and worries even if life is fruitful. Good health is tetra times better than being a millionaire. Nowadays, a lot of companies are providing the facility of health insurance.
A health insurance company provides insurance against any medical expenses incurred by individuals. These companies can be governmental, private or non-profit. The health insurance policy is a contract between the provider and an individual. This contract is renewable monthly or annually. Such companies can be found through any advertisement mode like print media, newspapers etc. The companies provide a proper plan like pre-paid services regarding various health issues. When some problem is found regarding the insurance, a complaint must be lodged to sort out the issue.
Complaint Letter for Health Insurance Services
Sea View Apartments
Michael M. Bullock
Block 13B, Skylarks Avenue, New Jersey.
August 13, 2017
Mr. Robert W. Xavier
St. Joseph Hospital
16 Fleet St. Red Cross Avenue, New Jersey.
Dear [Recipients Name],
I am writing to complain about the health insurance services. I have received the bill of my wife's major accident from St. Joseph hospital today. The bill mentioned that my insurance company just paid 15% of the bill. It sounds much terrible. As per the signed contract, my pre-paid insurance is bound to pay 95% of the bill in case of major accidents. This 15% does not make any difference. All local hospitals are offering 10% off in case of major accidents without having insurance policy. Then my policy sounds useless in comparison to such benefit being offered locally. I request you to pay the rest of the bill as per the signed contract. And please pay the rest of the bill. I must suggest you review the policy to avoid such inconvenience in future.
I hope for prompt actions.
With Regards,
Michael M. Bullock.
Download Details: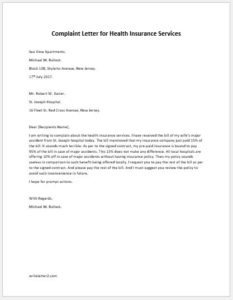 Complaint Letter for Health Insurance Services
Size: 42 KB Word .doc File 2003 & later
Download
Mobile Version: Polaris Office & Google Docs
Size: 21 KB File
Download
[personal use only: Not for Resale & Distribution]